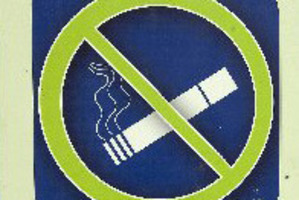 The all-out war on smoking is being won in the trenches, but there is concern those leading the charge are losing their appreciation for liberty.
This week, a report by the Cancer Society and Otago University suggested a ban on shops near schools selling cigarettes.
The study found that despite legally having to be 18 to buy tobacco, one-third of minors get cigarettes from commercial sources.
To combat this they want the Government to introduce a range of measures, including licensing for all tobacco retailers.
Other options include banning some types of shops, such as dairies, from selling tobacco and ending tobacco sales near schools.
As someone who has tried to quit smoking many times, I support moves to make sure they do not appeal to young people.
There is nothing glamorous about being a smoker these days.
We've grown used to disapproving looks in the street and often being told that it's a nasty, smelly habit, that we should give up and that it will most likely kill us.
Most smokers I know admire those who have had the fortitude to kick the habit for good and curse the day they took up the habit.
The Government is pulling out all the stops to cut the smoking rate to below 5 per cent.
Gruesome graphics of disease already cover 90 per cent of one side of the carton and 30 per cent of the other.
The Ministry of Health wants plain packaging to avoid tempting young people to try smoking or trigger cravings and relapses in people trying to quit. Earlier this year it became illegal for shop owners to have tobacco products visible to members of the public.
Years ago, the tobacco industry was muzzled through bans on advertising and sponsoring, and local councils are now banning smoking in public parks.
It is hard to argue that these moves are not cutting the rate of smoking in New Zealand - where annual tax increases are expected to push a packet of 20 cigarettes above $20 in 2016.
For the whole population, the rate of daily smoking among adults was 16.5 per cent last year, down from 25 per cent in 1997, the New Zealand Health Survey found.
In just five years, the youth daily smoking rate had fallen by more than half, to 6 per cent. This is a good thing.
I have had no issue with any of these measures - until now.
The latest move to ban shops near schools from selling cigarettes defies logic.
Under current tobacco controls products must be hidden behind doors and are only available to people over 18.
If a shop owner is abiding by these laws then it is unlikely they are selling tobacco products to school students and if that is the case then why should they be banned from selling these items just because their store happens to be near a school?
If a shop owner is selling cigarettes to underage children then they should face the full brunt of the law, but why should responsible business owners be penalised because of their location?
Mount Maunganui College principal Russell Gordon is "100 per cent" behind any measures to make it more difficult for students to buy tobacco. While he sympathises that businesses might lose income, he believes the community benefit far outweighs any potential loss of profit.
Some retailers said the findings of the report border on "conspiracy theories".
I agree. One Bay dairy owner says the proposal would put him out of business and that's what's wrong with the report's recommendation: it would penalise law-abiding business owners and that's a slippery slope.