A huge $51,203 has been made from the sales of Alf Rendell's magnificent aerial shots of Tauranga — money that will be reinvested into future generations of photographers.
Alf Rendell, 98, last year published a book of his aerial photographs of Tauranga from the 1940s and 1950s, with the help of Tauranga Heritage Collections curator Fiona Kean's knowledge along with financial backing of $25,000 from Legacy Trust.
The book quickly hit the top of the charts in the city and another print run has been ordered.
The proceeds from the book have been used to start an endowment fund, which will fund a $2000 scholarship awarded annually to a Bachelor of Creative Industries student at Bay of Plenty Polytechnic.
It has been named the Alf Rendell Photographic Scholarship.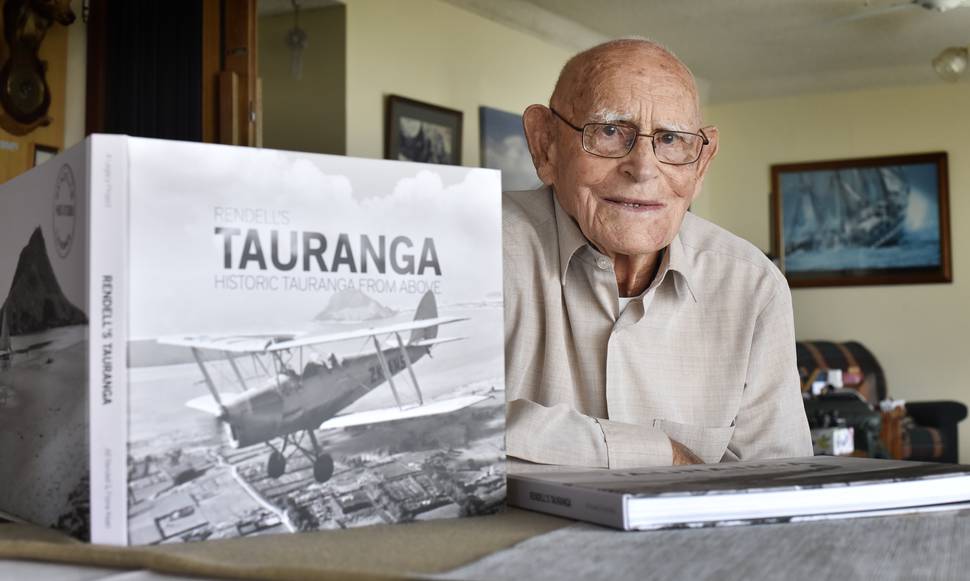 On Monday, Mr Rendell and Mrs Kean attended a ceremony at which Legacy Funerals director Mike Savage and Legacy Trust trustee Bill Holland handed over the cheque to polytechnic chief executive Alan Hampton.
Students eligible for the scholarship were also in attendance and were eager to quiz Mr Rendell about his work. Mr Rendell's career as a photographer started soon after leaving Tauranga Primary School, when he began working for his father, also a photographer.
Mr Rendell said he would have liked to specialise in taking photos of children, but had to be a "Jack of all trades", doing everything from studio shots to wedding photos because the town was so small.
Read more: Decile rise hurts Papamoa school financially
His aerial shots were taken during his weekend down time, when he went flying for fun.
"The boys I flew with were two or three different ones learning to fly. I paid their fees and got to ride along."
One of his favourite photos was a chance shot when he was flying over the Central Plateau.
"We went down once to look at Ngauruhoe. In 1949 it was dormant. When we first saw it, it went 'pop'.
"I took three shots and we got out of there. If we were a couple of minutes earlier, we would have missed it.
"Like I say, good photographs are about 90 per cent luck."
Mr Rendell was pleased the proceeds from his book would go towards budding photographers and he hoped they would "make a good fist of it".
Dr Hampton said he was overwhelmed by Mr Rendell's generosity in trying to encourage young students to do a similar compilation of photography.
Mr Holland said Mr Rendell's legacy was a wonderful one to leave to the community.