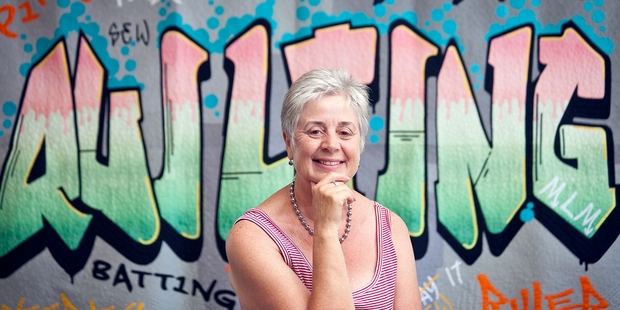 A passionate Tauranga quilter has shown her flair for patchwork by topping the country in her first national competition.
Melanie Martin took out the Best in Show title at the New Zealand Patchwork Symposium in Manawatu last week, with a modern graffiti-style quilt.
The Greerton woman had been a keen quilter since she was introduced to the craft at age 30 but her hobby had really taken off in the past 10 years when she had more time to dedicate to it, she said.
"I just took one look at it and it just spoke to me. I just thought 'wow' and it hasn't left me since. There's just so much I want to do with it.
"I do come from a very artistic family and I think this is just the medium that made that side of me come through."
She said she was a traditional quilter at heart but had recently come to be known by her 'art quilt' style, moving away from the blocks and panels of traditional quilting.
Graffiti had always impressed her - how it could transform and transpose a structure - and she had the idea of conveying that on a quilt for a number of years before she got the chance, she said.
"I admire graffiti and I could always see it becoming a quilt."
She decided 2014 was her year of challenges, taking on multiple competitions and hauling in a number of awards leading up to the national symposium.
Each competition had a theme or guidelines to work within and it was not until she was let loose for the national competition that she had the chance to follow through her grand plan.
It took one month of designing and sourcing material and another three months to create the 2.35m by 1.48m work.
"It was a labour of love," she said, having spent hours researching the "most pleasing" size and shape for a quilt to be.
The week-long symposium was a learning experience as well as a competition, with national and international guest quilters holding workshops.
Mrs Martin said she had picked up some new tips and tricks which may come out in her work in the future.
However, for 2015, it was time to focus on volunteering on the Tauranga Patchwork and Quilters Group Committee and finishing off a number of unfinished projects needing her attention.
Tauranga Patchwork and Quilters Group president Denise Lee said she loved the originality of Mrs Martin's quilt.
"It's not what you typically perceive as quilting.
"I'm glad she titled it art. Some people think of graffiti as vandalism and some think of it as art.
"Just as some people think of quilting as a craft, some see it as art," Mrs Lee said.