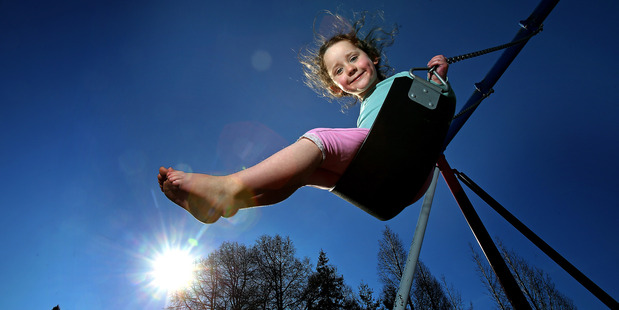 Warm but wet, that's the outlook for the next three months.
Monday officially marked the start of spring but the North Island is set to be warm but damp, according to Niwa's seasonal outlook.
Temperatures for the Bay of Plenty, Waikato and Auckland are expected to be average or above average, with rainfall expected to be in the normal or above normal range.
Niwa forecaster Chris Brandolino said lower sea level pressure in the next three months would create winds from the east - bringing the average to above-average conditions.
"It's not usual to have an easterly flow. To the east it's pretty moist, there's a lot of water out there," he said.
A team of Niwa forecasters met on Monday to develop their spring models, Mr Brandolino said.
"We looked at international and local models ... and considered the big picture."
The scientists also decided there was little chance of a spring El Nino developing.
Fast-forward three months though, he said, and there would be a 70 per cent chance of the weather system developing over summer.
El Nino would bring high rainfall to the west of the country, with mildly warmer and dryer conditions to the east. MetService meteorologist Georgina Griffiths said lower than usual pressures were expected in September.
"At the start of the month the low lies over the north of the country, keeping it on the damp and warm side from Taupo northwards," she said.
"But as we move further into the month, expect those lows to shuffle south towards the Cook Strait, bringing rain for the remainder of the North Island," she said.
However, above average temperatures could be expected north of Taupo.
Meanwhile, MetService forecasters said Tauranga could expect showers today with a high of 17C and an overnight low of 12C. Rain is forecast for tomorrow and showers for Saturday.
Warmer than average temperatures are expected throughout September.

August at a glance
Highest temperature: August 2, 19C
Lowest temperature: August 10, 1C
Most rain: August 20, 42.2mm
Strongest wind gusts: August 8 and August 14, 72km/h
Outlook for spring
45 per cent chance of above-average temperatures and rainfall in the upper North Island.
40 per cent chance of average temperatures and rainfall.
15 per cent chance of below-average temperatures and rainfall.- Niwa