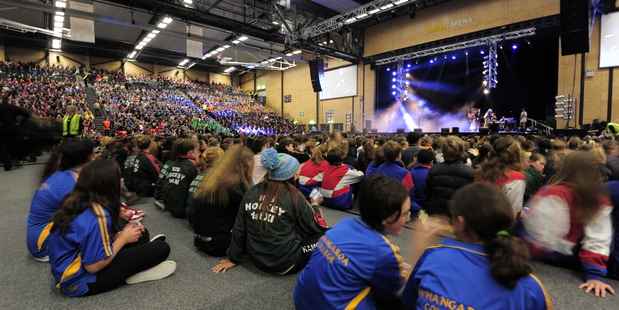 It's one of the biggest sports events in New Zealand - now an economic impact study will work out exactly how valuable the NZCT Aims Games to Tauranga and the wider Bay of Plenty region.
The 11th instalment of the intermediate-aged games will kick off on Sunday, with another record turnout. More than 7500 Year 7 & 8 athletes will compete in the week-long tournament, a sharp rise from the 6500 who turned up last year.
With at least another 3000 coaches, managers and supporters, accommodation in Tauranga is booked solid, while many of the 228 schools from around New Zealand have been billeted with local schools.
The sheer scale of the event has seen it given Tauranga City Council flagship status.
Pip Loader, Tauranga City Council's new strategic events manager, said the commissioned study will examine just who is coming to the city for the event and what impact they're having on the local economy.
"We already know the amazing positive impact the Aims Games has on the competitors but we also keen to weigh up how the event enhances our city," Mrs Loader said.
"This study will give us an idea of economic benefits the event provides, which also helps us get a better understanding of how much our current events portfolio is worth to Tauranga."
Other events around the country have proven how valuable they are to regions - last year's Queenstown Bike Festival, with just 1600 competitors, was worth $2.1m to the region while Gisborne's Rhythm and Vines music festival is worth more than $12 million to the city, based on the 2010 edition. The week-long world mountain biking championships in Rotorua in 2006 also gave a $12 million boost to the local economy.
Although Tauranga is well-known as a summer destination, Tourism Bay of Plenty chief executive Rhys Arrowsmith said the timing of the AIMS Games made it hugely important.
"Tourism Bay of Plenty simply loves Aims Games - not only does the event bring a young, vibrant buzz to the region but it injects significant income into a time that is traditionally very quiet," Mr Arrowsmith said.
"Aims Games is an Olympic-proportion calendar event that books out most of our accommodation providers and radiates spend across the wider region."
It was also a great chance for locals to showcase the city to visitors, which is why Tauranga mayor Stuart Crosby said his council was very proud to support the AIMS Games as a flagship event.
"The Aims Games provides opportunities for young people to compete in a wide range of sports, supported by their families, friends and schools," Mr Crosby said.
"It is also a chance to showcase our beautiful city and provides a significant economic benefit to the region. We are excited to welcome so many visitors to Tauranga and know they will be looked after very well while they are here."