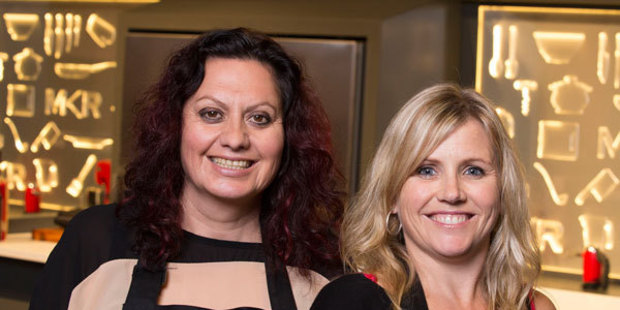 Bay Bogan Besties June and Steph are the first team eliminated from television reality cooking show My Kitchen Rules New Zealand,
June Lyall and Steph Usmar were one of several teams competing for culinary glory on the television show by being the first team elimated from the show. They were part of the first group competing. The second group of instant restaurants designed to impress New Zealand chefs and judges Ben Bayly and Gareth Stewart will air on television tonight.
As the lowest scorers in group one June and Steph said they were 'bummed' to be going home, but were nevertheless looking forward to getting back to their families.
Mr Bayly noted that it would certainly be a lot quieter without the bogan besties at the table.
The woman said of the result, "we are disappointed that we didn't get to show our full potential as cooks, but we just wish all the other teams the best of luck."
MKR NZ continues toniight with the introduction of the group two teams: Polynesian Cooks, Aaron and Heather, Ian and Sandie a.k.a The Fireman and his Flame, Christchurch Cuties, Jessie and Ricki, Corporate Dads, Josh and Aaron, and Hawkes Bay Sisters, Kelly and Megan.