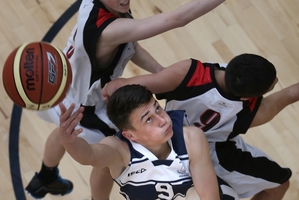 Hamilton Boys' High School has long been known as a traditional rugby school, but one man is trying to change all that.
And on the evidence of yesterday's action at the Zone 1 and 2 Junior Secondary School Premierships at ASB Arena, Hamilton Boys' junior coach Alby Ellis might have a chance of doing just that.
His young team blew Tauranga Boys' College out yesterday morning, easing out 105-34 winners to top their group ahead of crossover play.
"We're a rugby school, so we're just trying to edge our way in there," Ellis said through a wide grin.
"Before we used to have rugby players playing for us and now we have basketball players."
The teacher has run weekly training sessions on Saturday mornings from 6am for the last three years, inviting all players - including girls and players from other schools - in the hope of boosting the Hamilton basketball community.
His team lacks real size inside, but they more than make up for that by having a host of strong ballhandlers and springy athletes who are more than willing to hit the hardwood in the pursuit of loose balls.
Tauranga Boys' had a short period of success in the second quarter by packing the paint and forcing the visitors to jack up shots from the outside, but ultimately could not deal with traps that allowed Hamilton Boys' to create havoc in the open court.
Ellis, whose quiet approach and rapport with his players was a joy to watch, was all class in instructing his players to throttle back the attack once it was clear things were getting out of hand.
He called his guards off on fast break opportunities, instead preferring to run set plays with a centre at the foul line, handing the ball off to a number of different cutters for slashing lay-ups.
Ellis said beating Tauranga Boys' was a big deal after spending recent years getting put to the sword by a generation of players including Ashton McQueen.
He believed a lot of work was needed in junior basketball - both in the Waikato and Bay of Plenty and nationwide.
"The tournament is fine, but it's a shame we can't have a national title where all the best players come together - we need that."
Having the tournament begin on Sunday was another issue, with strong teams from Hamilton Girls' High School and Melville High School - the latter of which contains eight Mormon players - unable to play due to other commitments.
He praised the facilities of ASB Arena, but questioned whether its scale was suitable for junior basketball.
"Overall it's a great place to be and a great venue.
He said hiring such a large venue was difficult financially.
"They build this beautiful facility that we can't use.
"It costs too much money unless we run programmes where everyone pitches in."
In other action, Tauranga Girls' College needed some clutch free throws in overtime from Devon Bannister to get past Westlake Girls' High School 41-38, and will face Western Heights High School at 10.45am today.
The Otumoetai College girls were soundly beaten in their quarterfinal by Rangitoto College, with Tauranga Boys' also falling to an imposing Rangitoto team in the knockout stages.
Otumoetai College boys missed out on the quarter-finals on countback before posting a comfortable 91-36 win over Birkenhead College.