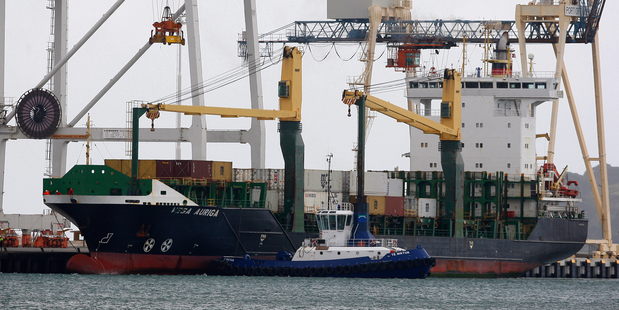 A ship banned from Australian ports is not allowed to leave the Port of Tauranga until 11 problems have been fixed.
Maritime New Zealand boarded the Vega Auriga after it berthed at the Port of Tauranga at 11.30am yesterday. It was originally expected to arrive on Saturday but was delayed.
Maritime New Zealand spokeswoman Sarah Brazil said the inspection took five hours.
"We're not detaining the ship but we found 14 deficiencies and 11 of those must be rectified before it can leave port or New Zealand."
The problems related to maintenance, seaworthiness and crew rest periods, she said.
Before the full inspection was carried out a deck walkover determined it was safe for stevedores to unload the cargo.
Ms Brazil said the ship would have to be checked and signed off before it was allowed to leave.
The repairs were expected to take about 24 hours.
The Vega Auriga was banned from Australian ports for three months on Wednesday. It had been detained three times in Australian ports since July last year and was declared "unseaworthy and substandard" by Australian Maritime Safety Authority manager Allan Schwartz.
The ban was due to repeated breaches of seafarer welfare and ship maintenance, citing wage payment issues, inadequate living and working conditions and inadequate maintenance, he said.
Ms Brazil said the Australian ban came under the rules of the Maritime Labour Convention 2006, which New Zealand was not yet a part of.
Consultation on the convention had been carried out but it had to go before a select committee, be legislated and ratified before it came into effect in New Zealand, she said.
Independent MP Brendan Horan called the Vega Auriga a "ticking time bomb that must be banned from New Zealand" and posed as great a risk as the Rena did when it sailed from Napier to the Astrolabe Reef. "The New Zealand Government should follow the lead of the Australian Maritime Safety Authority, which prohibited the Vega Auriga from using or entering any Australian ports."
Vega Auriga
• Owner: Hamburg-based Vega-Reederei GmbH & Co.
• Flag: Liberia.
• Gross tonnage: 9981 tonnes.
• Built: 2006.