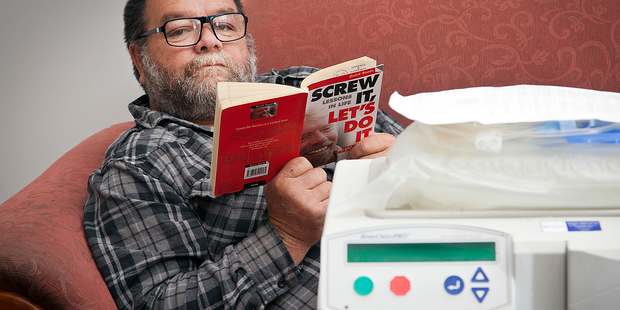 A near-death experience on the operating table after a triple bypass inspired Gavin Malcolm Todd to learn to read.
The 53-year-old has shared his story with the Bay of Plenty Times Weekend to shed light on the problem and let others know there is no shame in seeking help.
It's estimated 43 per cent of New Zealanders did not have the required levels of literacy for the workplace and the Bay of Plenty had been flagged as a high need region.
By his own admission, Mr Todd said he did not particularly like school and was prone to getting the strap. Teachers put him in the too-hard basket.
"I was left in the corner because I was slow so I didn't learn anything."
Life was tough. He became a teenage dad and pursued labouring jobs in orchards to support his family.
He could not fill out the forms when he had to go to social welfare.
"They made me feel low. I told them I could not read and spell but they still made me do it.
"I felt stink."
Mr Todd could recognise key words, spell his name and understood a few road signs but "that was it".
Failing health has hardened his resolve for learning. Today he was on dialysis awaiting a kidney transplant but he had renewed enthusiasm.
His achievements had also been recognised by tutors at Literacy and Education Bay of Plenty, who have nominated him for an Adult Community Education outstanding learner award.
Literacy manager Annamaria Grafas said often people who could not read or write "consider themselves to be dumb".
However, that does not mean they are lacking in intelligence, she said. "Many have missed building blocks when they were younger and may have missed school or suffered childhood traumas."
In 2013, 184 learners received literacy or numeracy assistance including employed workers wanting to improve workplace skills, Industry Training Organisation apprentices and Open Polytechnic students.
So far this year, the organisation has helped 149 learners and had about 70 tutors on its books.
The average age of a learner was 45 while the oldest was 73.
The impact on people's lives was huge, she said.
"It can impact on them socially, economically and in the workplace."
Although learners were often very competent in one area they struggled in another, she said.
International Literacy Day is on September 8 and the Tauranga City Libraries in
=conjunction with Literacy and Education Bay of Plenty and Altrusa International would hold a Random Acts of Reading event to highlight the issue of adult illiteracy.
Promotions assistant Daniel Petersen said over one million adults in New Zealand experience literacy difficulties in their everyday lives.
"Low literacy and numeracy skill levels are proven to impact on a person's ability to actively engage in society and gain meaningful employment."