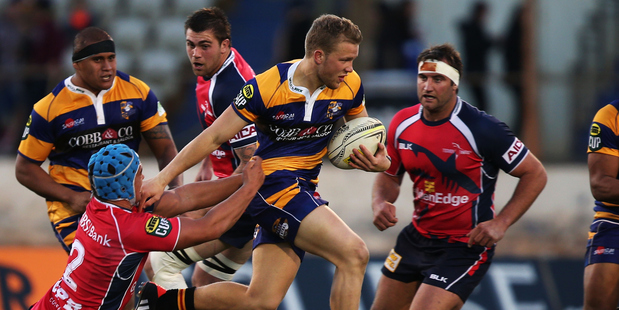 Dan Hollinshead has wanted to play for the Bay of Plenty Steamers since he was a little kid at Te Puke's Fairhaven Primary School.
So when he was selected in the Steamers squad for the 2014 ITM Cup, it was the next step ticked off for the 19-year-old first-five.
He captured the attention of selectors playing for Tauranga Boys' First XV and Chiefs under-19s. Now he finds himself the first-choice No 10 just two games into the ITM Cup, which he says has come as a surprise.
"Yeah it has come around quicker than I thought but I am really excited about the opportunity I have got now. I am trying to make the most of it really and try and secure it," Hollinshead said.
"The first game down in Southland I was real nervous for about the first five minutes and as soon as I got that first goal kick out of the way, I just felt comfortable. I just love running out there in the blue and gold and being part of it."
He admits sometimes it does seem a bit surreal what has happened.
"The other day we went back to my old primary school Fairhaven and I can remember being in exactly their place back in 2004, when we won the [Ranfurly] shield and they brought it over. That was 10 years ago but it still feels like yesterday.
"That was a goal for me back then and now that I am kind of living it, it is pretty cool."
Hollinshead is honest in his appraisal of his form in his two starts to date.
"I am happy with how I have started but there are definitely work-ons there. Defence is huge for me and just the overall leadership.
"Back at school you could hide a little bit but out there you really have to drive the team around the field.
"I am getting used to it and I feel like I am getting better at it. I know to get better I have to just keep improving week by week, which is what I am trying to do."
Improving communication has been a key part of team reviews from last Sunday's 56-27 defeat to Tasman at ASB Baypark.
Hollinshead expects a dramatic improvement against Taranaki in New Plymouth on Sunday afternoon.
"We have really identified that and worked on it for this week. It should definitely be better, kind of simplifying things down so we can go out there and get it done."