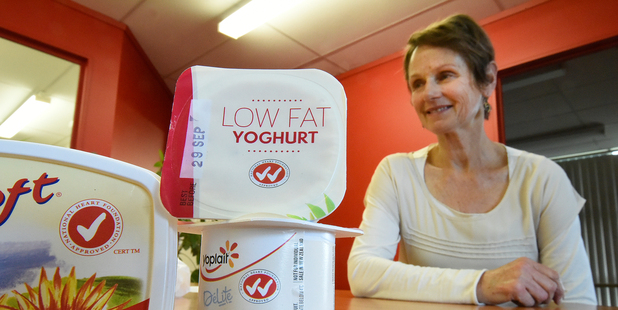 A double tick will soon be found on healthy food that should be eaten every day, thanks to a new programme by the Heart Foundation.
The widely established Heart Foundation white tick will be popping up on other food items, with those foods deemed necessary for a healthy diet getting an extra tick.
Tauranga-based Heart Foundation heart health advocate Sandy Ritchie said clear signage on food packaging was important as many people did not have time to read labels or did not understand what to look for.
Ms Ritchie said wording on packaging could be misleading.
A company may market a food product as "low fat", but make up for this by adding large amounts of salt and sugar.
High salt intake is linked to high blood pressure and saturated fat is linked to high cholesterol, both of which were markers of increased risk of heart attack or stroke.
Ms Ritchie said all recommendations made by the Heart Foundation were based on testing and evidence, so it was a trusted and reliable source of advice.
By the end of 2014, there will be 74 products in supermarkets displaying the two tick logo.
Ashley Woodford, owner of Food For Thought Nutrition in Mount Maunganui, thought the new label would help people make better choices.
The qualified nutritionist said knowing the Heart Foundation used a thorough testing process made it an easy brand to trust.
"Having the two ticks on core food groups makes it easier for people to see what they need to eat for a balanced diet."
Mark Patel, owner of Oceanblue Health Club, said he thought the two ticks label was a good idea as people were becoming more concerned with nutrition.
"There is so much conflicting information out there. Organisations like Heart Foundation with a lot of respect within the industry, it gives people information that they can use.
"Most people are genuinely interested in what they eat, so from that perspective, it does make it easier for health professionals to point people in the right direction."
In June, the Government introduced its voluntary Health Star Rating labelling system. Its labels are similar to the Energy Star Rating, a half circle of five stars that are coloured according to their rating. Foods with more coloured stars are of higher nutritional value.
The number of stars associated with each food is determined by an algorithm that considers the overall nutritional value of the food product - not just one aspect, such as sugar or fat content.