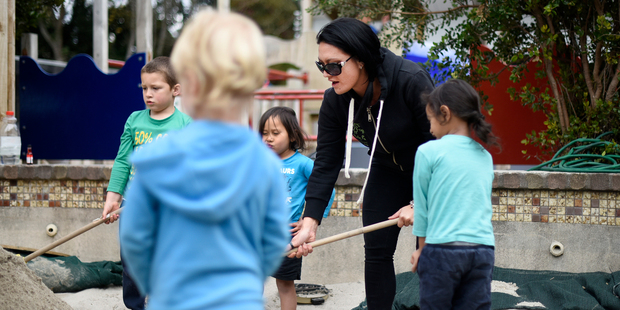 Working with young children is a challenge but it's something Amy Marsh enjoys doing.
The Gate Pa preschool teacher enjoys being hands-on with the three and four-year-olds she teaches, but also enjoys watching them learn and grow.
"What's more satisfying than making an impact on children and helping them develop and grow? I get to see that every day."
Mrs Marsh said she also enjoyed the opportunity to grow close to her preschoolers' families and whanau.
She prefers working with the older preschool-aged children because of their development, but said she still liked being able to work with babies.
"I like the arts and crafts side of things but I also enjoy doing the taniwha programme with our 4-year-olds. It's a transition to school programme we run for an hour every day. We take them for school visits to get the experience.
Mrs Marsh spent the afternoon in the sandpit with her children making a baking soda and vinegar volcano.
The children got out their brightly coloured shovels and built a knee-high sand mountain, and Mrs Marsh joined in on the fun.
When the children deemed it high enough, Mrs Marsh mixed baking soda and red food colouring in a cup and pushed it into the top of the mountain.
The children each took turns pouring in a bit of vinegar and watched their mountain erupt.
"I love the hands-on stuff. They're teaching me while I teach them, they show me what they like and then we can work together."
Amy Marsh's top five teaching tips:
1. Be passionate about what you're doing.
2. Challenge yourself to be better at everything you do.
3. Reflect.
4. Be enthusiastic and love your job.
5. Have fun together and learn together.
Do you know an awesome teacher in the Bay? If so, we'd like to hear from you. This series celebrates the great teachers in our early childhood centres, schools and tertiary institutes. Let us know of your nominations by emailing news@bayofplentytimes.co.nz.