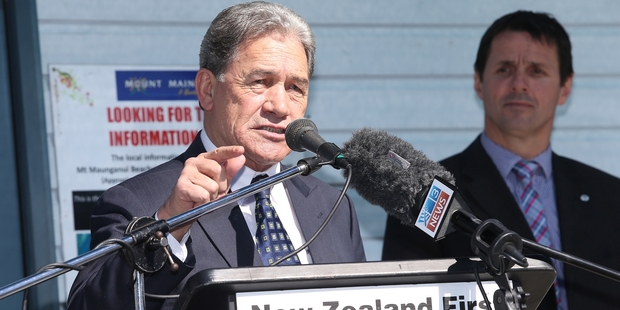 Tauranga ratepayers could be spared $25 million of road widening costs if New Zealand First leader Winston Peters ends up as kingmaker in the formation of a new Government.
Mr Peters yesterday pledged to make the construction of a duplicate Turret Rd bridge and the four-laning of Turret Rd and 15th Ave a condition of his party's support for a new Government.
He made the pledge at yesterday's election meeting at Mount Maunganui downtown's Phoenix Carpark - leading to a war of words breaking out with Tauranga's MP Simon Bridges.
His pledge was in response to city councillor Bill Grainger quizzing him about the 2008 pre-election promise made by Prime Minister John Key that a National-led Government would fund the whole $100 million cost of the Hairini Link.
Instead only the $55 million Welcome Bay underpass portion of the project was being funded wholly by the New Zealand Transport Agency, leaving the road widening to be funded partly by the agency once ownership of the Turret Rd/15th Ave corridor passed to the Tauranga City Council.
Mr Peters likened Mr Key's 2008 promise to a car salesman who had lots of pre-sale talk but not a lot of after-hours service.
He said Tauranga would not be loaded up with widening Turret Rd and 15th Ave. "We will make sure you get that promise fulfilled," he told the 80-strong crowd.
New Zealand First had been getting a lot of traction in Tauranga on roading issues after Mr Peters promised earlier this month to make the council's $63 million Route K debt another of his post-election negotiation agreements.
A few days after he pledged to remove the tolls on Route K and shift the debt to the New Zealand Transport Agency, it was announced that a deal had been struck between the council and the New Zealand Transport Agency for the debt to transfer to the agency, but for tolls to remain.
"After five-and-a-half years of central government inertia, all of a sudden last Monday the NZTA announced it was picking up the Route K debt," he said.
Tauranga city councillor Rick Curach, who was at yesterday's election meeting, said Mr Peters' announcement came as a complete surprise.
"Given that the Nats had sort of stolen his promise on Route K, perhaps Winston felt he should replace it with another one. Here is an opportunity, match that."
Cr Curach said the Turret Rd/15th Ave corridor should stay as a state highway and not fall on ratepayers.
Widening needed to happen at the same time as the underpass was built otherwise rush hour morning traffic would just back up at the two-lane bridge.
"It is critical for the project," he said.
Mr Bridges told the Bay of Plenty Times that tenders closed next week to design and build the underpass, with construction starting next year.
He said the Hairini Link was always going to be a staged project, with the underpass coming first and the rest being built as it was needed. "There will have to be a central government contribution. They are things that can be discussed at the time."