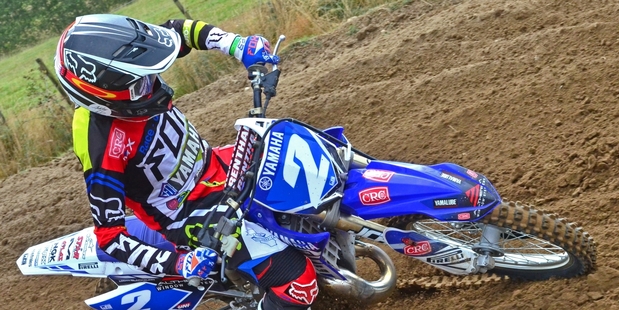 Te Puke's Logan Blackburn is on the comeback and the way up at the same time.
The 20-year-old Yamaha rider has been injured for five months but is now ready to go again. The 125cc ace is moving up from the small bike class to the MX2 (250cc) class and is sure to pose a threat at the national championships in February.
"I had my first comeback ride last Friday, just to get the feel of things after having been off a bike for so long," he said. "I felt fine for about two laps. My fitness is way down but that's to be expected after five months out," said the BikesportNZ.com-supported rider.
Blackburn broke his collarbone at the second corner of the second of three races at the final round of the 2014 nationals in Taupo in March. He had already been suffering a handicap because he had been hindered by an old ankle injury from 2010.
The two non-finish results at Taupo, coupled with the DNF when he crashed while leading his 125cc class race at round two of the series in Tokoroa in February, meant Blackburn completed only nine of the competition's 12 races. So it was remarkable that he was still able to end the season on the podium, the No3 plate reward for his tenacity in adversity. But surgery had since put him right.
"I had long been due for ankle reconstruction surgery anyway because my 2010 injury hadn't healed right. But now I've had both my ankle and shoulder repaired and I feel great again.
"I'm riding a Yamaha YZ250 at the moment, just to get some time on the track, but I hope to be on a Yamaha YZ250F four-stroke to race in the MX2 class later this year," he said.
"My first big comeback race will be at Taupo over Labour Weekend [October 25-26].
"I think I'm ready to step up to the MX2 class. I've just got to work between now and then on getting my fitness back to 100 per cent.
"It was hard watching the racing from the sideline these past few months and I'm really looking forward to getting out there again."