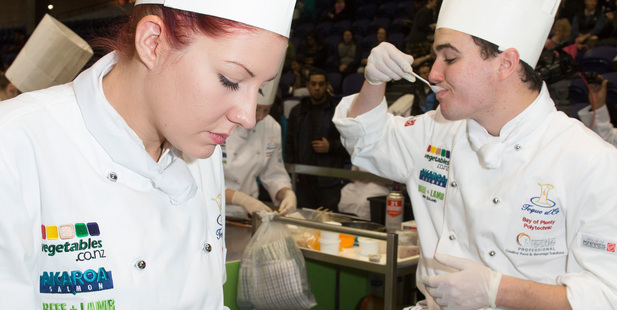 Bay of Plenty Polytechnic hospitality students Caroline Ruggle and Samuel Craig Wannan tackled the kitchens in a live cook off in Auckland today, as they battled against competitors from around the country for the coveted Nestlé Toque d'Or award.

Now in its 24th year, Nestlé Toque d'Or is the country's annual top student culinary and restaurant service competition.

The 12 institutes that competed at the event were required to put forward a team of three of their best and brightest hospitality students. Their task was to cook and serve a three course menu to attending invited guests and judges, within a set timeframe.

Students were marked by the panel of judges according to World Chefs Societies International Judging Standards.

The results including details of the overall winning team will be announced later tonight at an awards function in Auckland.