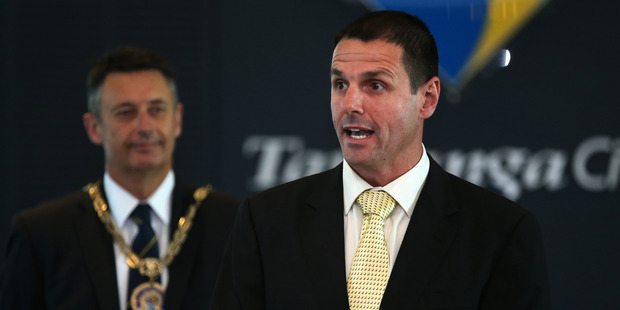 Tauranga councillor Clayton Mitchell has been accused of being emotive after saying city sand dunes were being napalmed with toxic sprays.
He was the only councillor to oppose improvements in the way the council implemented its agrichemicals control policy.
Cr Mitchell, (pictured below) who is the New Zealand First candidate for Tauranga, told yesterday's city vision committee that he could not support the measures even though he believed the council needed to use agrichemicals and that they were cost-effective.
He likened the use of toxic sprays to napalm, saying they not only killed unwanted dune plants but got rid of butterflies, birds and bees.
The council uses the sprays to kill introduced exotic plants before replanting the bare dunes with sand-binding native dune species.
Cr Mitchell wanted to see residents who opposed the spraying being able to volunteer their time to remove the introduced plants without the use of sprays.
Huge amounts of spray was used in a short space of time to fix a problem when he believed the dunes could be dealt with more delicately.
Mayor Stuart Crosby accused Cr Mitchell of being emotive by using the word napalm - a word made notorious by the Vietnam War.
Mr Crosby said it could be argued that the dune environment was not a natural ecosystem, with agapanthus and ice plants. They were replacing these plants with something that was relevant.
Cr Matt Cowley said he was not calling the community hypochondriac, but he saw the situation with the council's tree-management policy when there was a very casual relationship between people having stuffy noses and trees, when there could be other causes.
He asked whether there were instances in which some of the physical effects were not caused by the sprays.
Council parks co-ordinator Josh Trafford said he knew of one person who produced medical evidence to show that their ill health was caused by a low immunity to toxic sprays.
New weed control measures
• Develop a framework to monitor and guide implementation of the spray policy
• Proactive public reporting on ways the council is reducing the use of agrichemicals
• Review the council's relationship with the Toxic Agrichemical Advisory Forum.
• Review the process for changing the list of approved agrichemicals.
• Continually review the availability of non-chemical methods