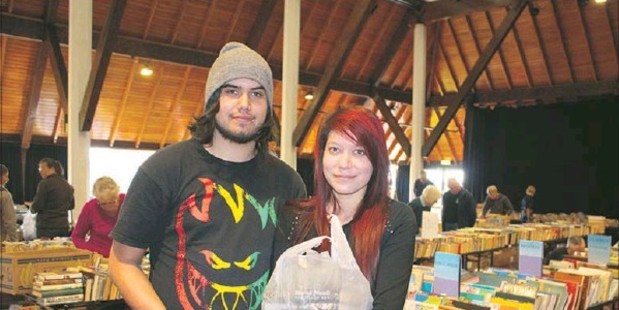 Pre-loved books, puzzles, magazines and games were flying out the doors of Baycourt over the weekend from the Otumoetai College Bookarama.
More than 10,000 books, which filled a shipping container were being sold for Otumoetai College's annual fundraiser.
Now in it's 27th year, PTA chairwoman Julia Hofland said they hoped to raise $8000, which would go primarily towards a new van for the school and the leftover would be used elsewhere.
"Everything will go back to the students to enhance their environment," she said.
All the items on sale had been donated; a lot of the books were collected from students on their previous mufti day.
As a last day sale special on Sunday, a plastic bag filled with the pre-loved items was being sold for $5.
Deejaee McLean had travelled form Tokoroa especially for the book sale, collecting a number of bags to take home.
"I'm trying to hold back but I've got five bags already," Miss McLean said.
Secondhand books were a more exciting shop for her as there were more surprises.
"You find books you can't find brand new and they're cheap."
Tauranga brothers Blair and Aiden Mabey and cousin Ethan Clare were on the hunt for adventure books and some fresh material they couldn't find in their school library.
Blair was happy to have found some Paul Jennings books among the stacks.
"I'm very interested in these books," he said, as a keen reader.
Leftover children's books and magazines would be donated to the hospital, Mrs Hofland said.
Whitcoulls top 10 books of 2014
1 The Fault in Our Stars (John Green)
2 The Book Thief (Markus Zusak)
3 The Lord of the Rings (J. R. R. Tolkien)
4 Written in My Own Heart's Blood (Diana Gabaldon)
5 A Dance With Dragons: Book of A Song of Ice and Fire (George R. R. Martin)
6 The Luminaries (Eleanor Catton)
7 Harry Potter and the Deathly Hallows (J. K. Rowling)
8 Mockingjay (Suzanne Collins)
9 Allegiant (Veronica Roth)
10 I am Pilgrim (Terry Hayes)