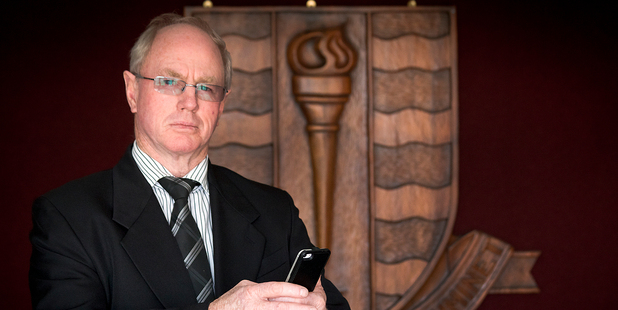 The principal of the Western Bay's largest high school says he has found an effective way to help eradicate cyberbullying among his students.
Otumoetai College principal Dave Randell asks all students and their parents to sign an agreement that outlines that hacking other students' online accounts, or using electronic equipment to bully others, is unacceptable.
By signing the form, students also agree to report any cyberbullying to staff.
The Electronic Learning Equipment Responsible Use Agreement is written in simple language and ensures students understand that the right to use computers, printers and cellphones at school may be removed if the equipment is misused.
Mr Randell said the confiscation of a smartphone, or being banned from using school computers for a week - or the remainder of the term - was a strong deterrent for students considering bullying. The forms were kept on file and renewed each year.
Three or four cellphones a week are confiscated at the school and must be collected from Mr Randell.
The agreement was one of a number of ways the school created an environment where bullying of any form was "totally unacceptable".
Western Bay high school principals spoken to by the Bay of Plenty Times Weekend said they ran a range of anti-bullying initiatives aimed at creating environments where students felt comfortable reporting bullying of any kind.
Bay schools will also take part in the nationwide Know the Signs anti-bullying campaign, developed in Tauranga and funded by the Ministry of Social Development, which aims to help parents and close adults of child bullies and the bullied recognise the signs in children.
Katikati College
The school ran the "Bully Busters" programme. Members elected from each form class were available for students to approach about bullying if they felt uncomfortable talking to an adult, principal Neil Harray said.
"The students are trained on how to deal with this information and it is passed on to the appropriate people," Mr Harray said. Each Wednesday these students wore "Bully Buster" shirts and walked around the school chatting to students.
Mr Harray said students exhibited bullying behaviours for a reason. "Life circumstances certainly have a big part to play and we work really hard to make sure that all those involved in incidents of bullying behaviour are supported so that the behaviour stops."
Social media had a big impact on the incidences of bullying, he said.
Tauranga Boys'
College Principal Robert Mangan said the school took bullying complaints seriously. "We encourage boys to report and will follow through on issues with the alleged bully and give victim support," he said.
He said bullying occurred more in the junior school and those responsible were often students who had been bullied themselves.
Bethlehem College Gavin Hodges, director of pastoral care and counselling at Bethlehem College, said restorative justice processes were used when dealing with students who violated the school's culture of caring for each other. "This gives opportunity for students to understand the impact their behaviour has on other people," he said.
Each year the college surveyed its Year 9 students about their experience of bullying, along with a group of Years 10 to 13 students.
"This enables us to compare from year to year what students are saying about their experience. With the advent of cyberbullying we now seek feedback from our students in this area as well."
The school received two or three reports of bullying each month, he said.
"Sometimes on further investigation these are not "bullying" issues but students struggling to learn how to communicate and relate to one another."
In general, bullies were students who had learned how to use their power - size, words or personality - over someone else, Mr Hodges said.
Mount Maunganui College Principal Russell Gordon said his school defined bullying as the use of aggressive behaviour towards others with the intention of causing harm to them. "We have chosen to define bullying so that students and teachers know what is and is not acceptable," he said.
The school also used regular surveys such as 'Me and My School' to get a picture of how their students were feeling. "This information is used to inform our actions in addressing any issues," Mr Gordon said.
Mr Gordon said all teenagers had a need for significance but a minority met this need by seeking to assert their dominance over others.
"It is incumbent upon schools, homes and the community to better meet the needs of the whole student so this need for significance is met in an appropriate manner," he said.
Tauranga Girls'
College Principal Pauline Cowens said that when identifying bullies there were links to maturity, engagement in learning and co-curricular activities. "Being busy and engaged builds confidence and therefore positive relationships," she said.
Aquinas College
Principal Ray Scott said his school had "very few" incidences of bullying. "We endeavour to act promptly on any issues to prevent them from escalating."
College staff were being up-skilled in restorative methods for dealing with bullying, he said.
Te Puke and Papamoa Colleges did not respond to the Bay of Plenty Times Weekend in time for this edition.