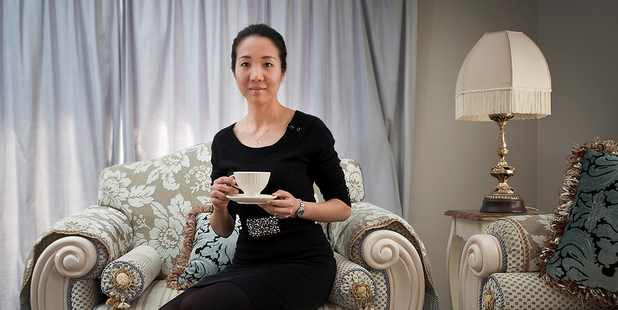 Victoria Han came to New Zealand as an international student and never left.
The 32-year-old mother-of-two remembers searching the map at the back of her classroom in Tianjin, China, to gather her bearings.
"I knew it existed but I didn't know exactly where it was so I found it on the map. It looked like an attractive option because the country is so small. When you are 18 you just want to get out of home and go as far as you can to try different things."
Her mother Shumin always thought Victoria would go back to China after finishing her time at Onehunga High School, but that never happened.
She enrolled at Auckland University where she decided to specialise in mathematics and statistics.
"It does sound kind of boring but I liked numbers."
That decision led her to a career at Statistics NZ where her first task involved tackling the census before moving onto agricultural surveys.
"I think I was meant to do that job after graduation because you can put what you have learned into reality. It was a dream come true really."
After five years her husband Tony suggested the family relocate to Tauranga where he was able to set up his own optometrist practice.
She likens the move to shifting to paradise.
"We went for a walk along the beach at Papamoa and it reminded me of the Gold Coast, but minus the tourists and businesses. It was lovely and peaceful."
Bringing up daughters Gorgina, 9, and Nicola, 7, in a safe environment also appealed.
"They are very proud to be Kiwis of Chinese descent and Tauranga residents."
Ironically Victoria said Tauranga was similar to Tianjin - the fourth largest city in China with a population of about 10 million - because the people were friendly.
"Huge populations are common in China but the people still care about each other."
As a Chinese woman living on the other side of the world she values her culture and language. Keeping the mother tongue going can be a challenge, she said.
However, Victoria had found support in the community.
"Thanks to the local Chinese church, there's a free Chinese class after Sunday's service."
Technology meant it was easy to communicate via the internet.
"We can keep in touch with family and friends thousands of miles away, keeping our children connected to where we came from, while calling this beautiful country and city home. That's a total blessing from God."
"Must celebrates" for Chinese living in New Zealand were the Spring Festival and Mid-Autumn Festival that kicks off next month.
Victoria planned to spend it with her family and make a moon cake for dessert. It was a traditional feature that was the symbol for a family reunion, she said.
Yesterday Victoria was helping husband Tony and extended family who have just opened the Yiran Asian Supermarket.