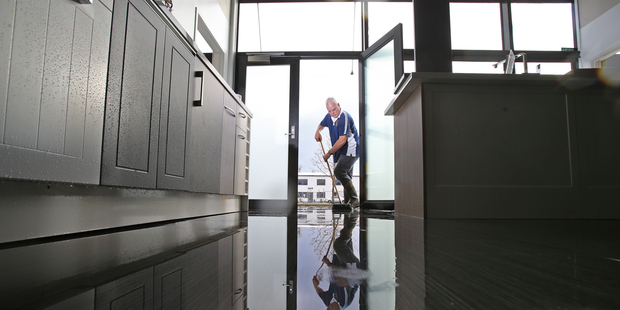 Flood hazard maps being rolled out around Tauranga are close to being completed for the flood-ravaged Oropi and Waimapu catchment.
The maps being prepared by the city council will be the topic of public meetings around August 19-21 involving businesses with fresh memories of being flooded out. Owners and tenants of buildings in Windermere's flood-prone Roxanne Pl commercial subdivision met informally with Ward councillors and senior council staff yesterday.
The meeting, organised by Guy Metz of Dream Doors Amazing Kitchen Facelifts and Te Papa/Welcome Bay councillor Bill Grainger, came only six weeks after water 20cm deep flowed through buildings in the subdivision.
Drainage systems failed in the Roxanne Pl and Maleme St area when big downpours in Oropi's catchments, combined with a high tide, resulted in water entering buildings at the bottom of the street.
Public consultation meetings were held when 2D maps for each catchment were completed.
So far they have been held in Mount Maunganui South, Matua and Pillans Point.
Mr Metz said yesterday's informal meeting had been reasonably positive but the issue still remained that one-in-50 year storms that brought flooding were happening more and more often. He said Roxanne Pl should never have been consented because it was built on a flood plain, with water backing up on both sides then entering the subdivision when the Waimapu River was unable to cope with flood waters at high tide.
Mr Metz believed the real problem was the silting up of the river but they were told that addressing that issue would need a resource consent from the Bay of Plenty Regional Council and that could take a long time. He was not convinced that the contract recently let for the first phase of the flood relief works for Roxanne Pl would make any difference in storms.
It involved spending $750,000 to raise the level of Poike Rd for 250m to the intersection of Roxanne Pl and laying stormwater pipes under the road to empty into the river.
Funding and the timetable for flood protection work in the catchment would be decided during the review, later this year, of the council's 10-year plan.