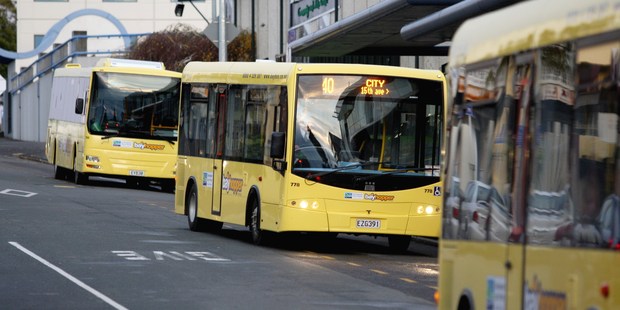 Confusion over yellow buses is causing some Tauranga commuters to see red, with Bay Hopper drivers catching the flak.
Buses not stopping to pick up passengers accounted for nearly a third of the 489 Hopper complaints received by the Bay of Plenty Regional Council in the past 12 months.
But not all yellow buses were Hopper buses, and operations director Darryl Bellamy said this led to confusion when some people saw a bus whizz past.
People were in fact seeing one of the three yellow school buses in the fleet operated by Bayline Coaches, the previous Bay Hopper contractor.
Bayline's business manager, Jeanette Proctor, suspected few would be confused because its yellow buses were clearly marked as school buses and did not carry the Bay Hopper brand: "There is a minimal chance they would get confused - I am not saying it does not happen."
And although most complaints about buses related to a failure to stop, Mr Bellamy said often the drivers were not at fault.
A common mistake was that people were concentrating on their cellphones or newspapers as the bus came along, at the time drivers were looking for an indication the person wanted to catch the bus.
"They wake up after the bus had gone past."
Drivers were also the innocent victims of complaints generated by children who spent their bus money, then told parents the bus went past without stopping.
"We investigate every complaint," Mr Bellamy said.
Regional council transport policy manager Garry Maloney said sometimes passengers running to catch the bus mistakenly thought the driver had seen them. Other reason for not stopping were that the bus was full or people had not signalled clearly they wished to board.
A further 91 complaints were from road users who accused bus drivers of inconsiderate driving.
Mr Maloney said these calls were often about buses pulling out into a gap on a busy road when some motorists felt the gap was not large enough.
He said a lot of motorists let buses into gaps.
"People with experience know how it works," he said.
When a pattern of complaints emerged pointing to a particular driver being at fault, they were pulled in for a talk and retraining.
Rude drivers also drew complaints. Mr Bellamy said such matters were difficult to deal with and complaints had been received about drivers he would have bet a week's wages would not annoy people.
As for complaints about buses being late or not running, he said the council tested timekeeping and was happy with how Hopper buses kept to timetable.
The regional council managed public transport services in the Bay.
All complaints and accidents went to the New Zealand Transport Agency, which rated bus operators.
Mr Bellamy said Go Bus, the operator of Bay Hopper, had a five-star rating.
Complaints
• Bus did not stop, 150 Inconsiderate driving (from motorists), 91
• Rude driver, 86
• Bus late or did not run, 68
• Incorrect ticketing, 28
• Accident/harm/injury, 24
• Bus early, 21
• Poor driving (from passengers), 15
• Unwilling or unable to provide information, 6
Injuries on buses
• July 17, 2013: Passenger fainted, minor cut
• November 6, 2013: Three passengers fell to floor, one small cut, when bus braked • heavily to avoid car changing lanes
• May 30, 2014: Passenger bruised in fall when he stood up before bus had stopped