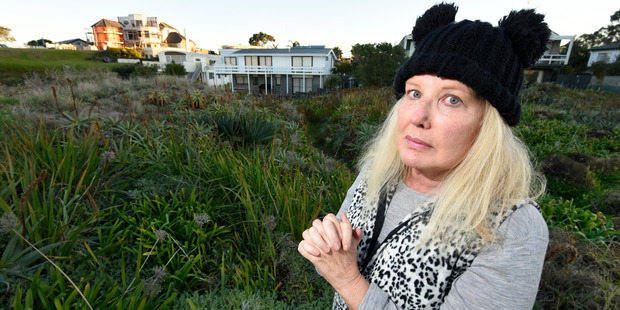 Mount Maunganui residents are vowing to do all they can to stop the controversial dune regeneration programme in which the council sprays exotic plants with weed killer in order to replace them with natives.
Oceanbeach Rd resident Sue Furey was among a group of residents who made submissions to the Tauranga City Council against the use of sprays on the sand dunes. They say the sprays are harming wildlife but the council says there is no evidence the chemicals harm fauna.
"It's all going to grow back in two years. You can't stop nature blowing it back into the sandhills or the birds carrying it," Sue Furey said. "I am dead against spraying. We found dead birds, the pheasants disappeared."
Four months later she was just starting to notice wax-eyes and tui returning to her garden.
Neighbour Peter Morse says larks, butterflies, skinks and bees disappeared after the spraying began: "It's quite an invasive toxic chemical."
Mr Morse was also concerned that by killing off the grass and exotic plants the sand dunes were becoming less stable.
Council park ranger for coasts Stephanie Brackstone said a small list of approved herbicides, less toxic than chemicals at the supermarket, were used. Contractors only used sprays when it was impractical or too costly to remove plants manually or mechanically. "There is no evidence that herbicide use has harmed any kind of wildlife," she said.
Further towards Mauao Oceanbeach Rd, resident Janet Peters said she and neighbours were willing to form a human chain to stop council workers clearing away the masses of freesia plants and agapanthus that had taken over the dunes behind their Omanu homes.
"It's paradise. It's just beautiful," she said.
She believed the spraying would destroy a lot of natural beauty and leave the area unstable.
Ms Brackstone acknowledged many people disagreed that the exotic plants needed to be removed but said it was important to protect the dunes.
"The council's firm position is that exotic vegetation does not provide an adequately deep enough root system for this coastal environment."
The dispute
• Some residents say the sprays are harming wildlife in the dunes and the loss of grass and exotic plants is making the dunes less stable.
• Tauranga City Council says there is no evidence that the herbicide used has harmed wildlife. The council says exotic plants need to be removed to allow the dune system to function properly.