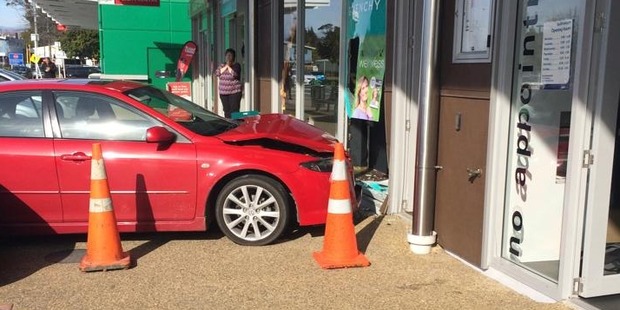 A car has driven through a glass wall of a Bethlehem shop this morning.
The red mazda mounted the kerb outside the Metro Pharmacy in the Bethlehem Shopping Centre and took out the front of the shop.
Shop owner Gordon Ritson said the sound of the full sheet of glass smashing was incredibly loud.
"I was in my office and there was a hell of a bang. I thought one of the shelves had caved in. We went out and there was a woman sitting in her car with the engine still running.
"I think she was in shock.
"She had taken out a parked car next to her on the way in as well... the neighbours door frame was damaged as well.
"She told me she thought she was putting her foot on the break but it had been on the accelerator."
Mr Ritson said you could never know what would happen in a day and he was relieved no one had been hurt.
"Within 20 minutes people were coming to help us repair and secure the shop. It's amazing that people will drop everything to help you when you need it."