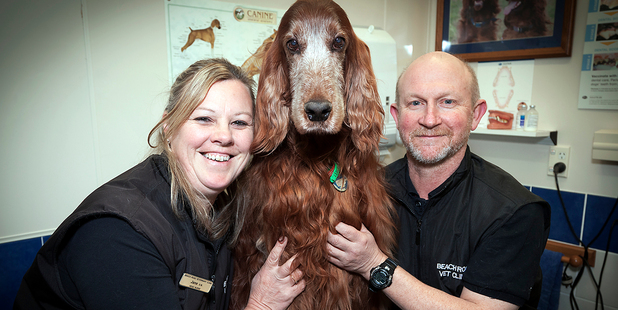 A dog who spent 30 hours trapped down a cold, 4m-deep hole was joined down there by her owner's cat.
Papamoa vet Brett Kirkland was taking his two dogs for a walk about 6am on Thursday when he noticed his 12-year-old Irish Setter, Saffron, had vanished.
"My other dog was eating something so I went over to her to get it off her and Saffy was behind me, then I turned around and Saffy was gone. She's a bit old and doddery so I thought she might have wandered off."
Mr Kirkland searched the neighbourhood and handed out flyers with his friends, then went to bed worried about his much loved pet.
The plot thickened when early yesterday morning he realised his cat Zippy hadn't been home last night either.
It wasn't until around 10am yesterday - 30 hours after Saffron disappeared - that he spotted the hole just 5m from his back fence.
"The number of times I would have passed that hole in the last 24 or 30 hours would be dozens.
"I saw a little break in the grass and there was an old septic tank that has reinforced concrete on top and that had fallen through, and I saw the black eye of my cat running around in there."
"I think the cat went there looking for [Saffron]."
Mr Kirkland peered down, and as his eyes adjusted to the darkness he saw Saffron there too.
"She was trying to crawl up the sides so I could see she didn't have any breaks or anything."
Saffron doesn't have a strong bark anymore, which may be why she couldn't be heard from the bottom of the hole, he said.
"Me and a friend lowered a ladder down and I went down and got the cat. It was a 10-12ft hole and there was no way I could carry my dog up."
Mr Kirkland called the Fire Service and then waited down the hole with Saffron for half an hour until crews from Papamoa, Te Puke and Mount Maunganui arrived to help get the dog out safely with ropes.
"They were brilliant, absolutely brilliant.
"At the end I said 'do I owe you anything'? And they said, 'no it's all part of the service.' But I think I owe them some drinks."
Mr Kirkland has owned Beach Road Vets in Papamoa for 17 years and lives above the practice.
Mr Kirkland said the drama reminded him of something he was taught long ago."When animals go missing, they're often much, much closer than you think."