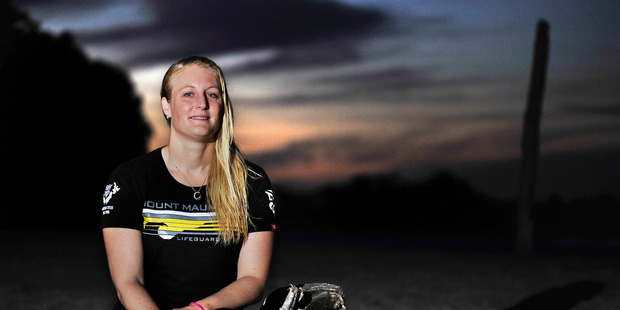 This week's Newsmaker is Danielle Shepherd, Mount Maunganui Lifeguard Service patrol captain, who featured in Tuesday's paper after winning the Bay of Plenty Patrol Captain of the Year and the Medicare Bay of Plenty Lifeguard of the Year in the 2014 Surf Life Saving Bay of Plenty Coromandel Awards of Excellence.
1 - Describe yourself in three words:
"Busy, passionate and enthusiastic."
2 - When life gets too busy, what takeaway food are you likely to indulge in?
"Sushi or Chinese/Asian. If there is time to stop in and eat then sushi or Mexican."
3 - What album is playing on your stereo/computer at the moment?
"I mostly listen to Spotify ... So a lot of playlists to suit my mood and task from oldies like Neil Young to Blink 182, the Ataris, Macklemore and chilled out stuff like Jack Johnson and Hollie Smith.
But in the gym or pre-surf it is always fast and loud punk rock."
4 - Musically, what is your guilty pleasure? (Backsteet Boys? Spice girls? John Rowles?)
"Absolutely no doubt about this one - Taylor Swift, very loud and badly sung too."
5 - Tell us a bit about your first surf lifesaving memory, and how did this impact your chosen career?
"Gosh, first memories are a bit blurry. I was seven when I started surf lifesaving. I remember Sundays of scorching hot black sand and wild surf with all my mates at Muriwai beach in the nippers there. After seven years of nippers I fondly remember doing my first rescue as a lifeguard at 14 with my dad. We had just been for a surf after school/work and someone ran up to the surf club and said there were people in trouble we ran over the sand dunes with tube and fins and pulled two guys from a rip. I was so scared I wouldn't be able to do it."
6 - What is the most important advice you have ever been given?
"Only you control your destiny. I also treasure the family motto of a close friend - fortune favours the brave.
"Of course 'swim between the flags' and 'learn to swim' is the best advice I can give the rest of the world."
7 - What do you think are attributes a good captain needs to be successful?
"Empathy and understanding first to get the best out of your team. Then the ability to have broad oversight as well as specific details when required. A cool head under pressure, multi tasking and never forgetting that you are human - have a laugh with your team, share in their lives and you will be a cohesive unit. As a result they will go out and do whatever you ask of them no matter what the surf/weather."
8 - When it's been a full-on week, what is your favourite way to unwind?
"If I am not physically shot then a surf, swim, paddle or run - anything at the beach. If I am physically shot then I will bury myself in a book and a catch up with the husband as he often gets left out when I am busy."
9 - At 7pm on any given weeknight, what are we likely to catch you watching on television?
"If I am home (which is about half the time) I probably just got in so delayed 3 News while making/eating dinner."
10 - If you had the chance, what reality television show would you most like to star in?
"Hard call - It's not really my nature to seek fame but I always think that my husband and I could do one of the food or renovation shows as they are things that we spend a fair bit of our spare time on. If they made a show where you had to go to the beach and compete against others in surfing, swimming and cooking then that would probably be us - especially if it was somewhere without winter!"