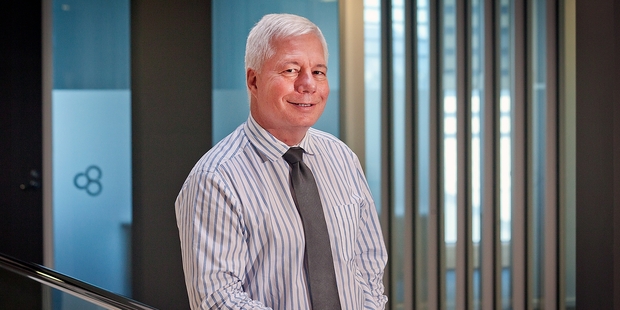 Larry Bilodeau's first work experience involved balancing on a narrow steel beam several stories up as a high rigger on building sites for his father's construction company in Thunder Bay, Ontario.
"I was fortunate as a rigger, I started at the ground floor and worked my way up," said Mr Bilodeau in the third floor office of the Balance Agri-Nutrients complex in Mount Maunganui where he has worked for the past 14 years as chief executive.
"You got so used to it, it felt like walking on a sidewalk," said Mr Bilodeau, who worked in construction on apartment and small office buildings throughout every holiday in his teen years. "When you're young, you're absolutely fearless. But no, I wouldn't do it now."
Mr Bilodeau is getting his head around his coming retirement in September from the role of running Ballance, one of the two major farmer co-operatives that control more than 90 per cent of the New Zealand fertiliser business. The other is Christchurch- based Ravensdown. Mr Bilodeau's successor is Mark Wynne.
"Larry has grown Ballance enormously as chief executive into a world-class agri-nutrients company," said Bruce Wills, the former Federated Farmers president, who earlier this month presented Mr Bilodeau with this year's Vodafone/Federated Farmers Agri Businessperson of the Year award.
Mr Bilodeau went to school and university in Thunder Bay, and after studying engineering, went to work in the Canadian oil and gas and chemicals sector, working largely for Exxon, which became Esso Mobil.
His achievements included overseeing the design and construction and start-up of major manufacturing facilities, in Canada and the United States. He was also a key player in the execution of several large mergers and acquisitions.
Then he got an offer he couldn't refuse, to come to New Zealand in 1997 as general manager of Ballance's Kapuni-based ammonia-urea plant.
At the time he was working with Agrium, a company that Exxon had sold off, and was weighing up an option to set up a greenfield $1.5 billion project in Argentina. "But Kapuni was a neat opportunity that came out of the blue," he said. The chief executive position was already on the table when he took up the general manager job, and relocating was relatively easy, given that the family had already moved several times across Canada and the US. The similarities the family found between New Zealand and Canadian culture also eased the change.
After two-and-half years at Kapuni, Mr Bilodeau was appointed to the top job and moved to Tauranga, for what has become the longest stretch he has spent in one place.
He said his proudest achievements included rationalising acquisitions that have helped grow the company and drive its goal of serving the wider farmer community. The co-operative has assets of $567.6 million, with shares valued at $8.10 following a 60 cent increase in September 2013. This was the third revaluation in six years, supported by a strong balance sheet and represented an $1800 increase in a typical shareholder's equity in the company.
"Larry has a natural instinct for measuring up whether or not to support a strategy or investment and for making the right decision," said Warwick de Vere, Ballance's general manager corporate services.
In 2013, Ballance delivered a record rebate and dividend of $65/tonne and a record trading result of $92.6 million, despite the drought drying up fertiliser demand.
Under his leadership, the company acquired all of Summit-Quinphos (now Altum), which focuses on organic and environmentally sustainable fertilisers and nutrients, and created the nationally operated Seales Winslow animal nutrient feed business, as well as farm technology company Farmworks Systems.
"I'd have to say this has been the most enjoyable job you could have," said Mr Bilodeau, who blames genetics for his trademark white hair, which turned from its natural black in his 30s.
"The job has its stresses at times, it's competitive, but we have a great team."David Porter