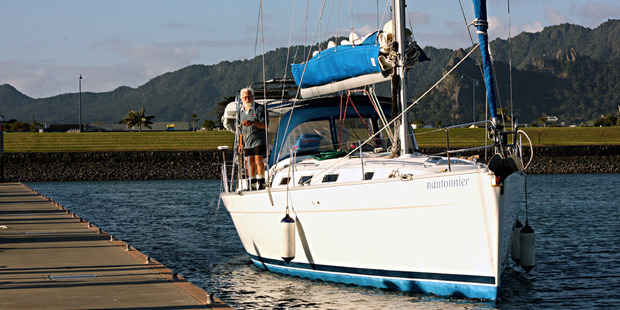 Tauranga's Rob Gibson has just completed the journey of a lifetime, sailing more than 16,000km from the Caribbean to New Zealand on a 13-metre yacht.
Earlier this year, Mr Gibson, his former boatmaster student, John de Boer, and his son, Stephen de Boer, embarked on the trip to return the Nautonnier yacht they had bought back to New Zealand.
The voyage took the Tauranga man from the British Virgin Islands to Puerto Rico, Cuba, Jamaica, Panama, the Galapagos Islands, the Marquesas Islands and Tahiti before returning to Marsden Cove in Whangarei. The four-month expedition included some of the longest sailing passages possible between two points in the world. Between the Galapagos Islands and the Marquesas Islands in French Polynesia, the crew spent 28 days at sea with no sight of land, clocking more than 6500km of travel in one sitting.
However, Mr Gibson said the biggest challenge arose when the three-man team was cut to two for the final leg of the trip.
Work commitments meant Stephen de Boer had to fly home, leaving the two experienced boaties to tackle a 23-day passage from Tahiti to New Zealand. "I was pretty concerned about it. It's a long way for two people to sail, but we managed to make it okay," said Mr Gibson. "We took turns at steering and keeping watch, four hours on, four hours off."
It was not all hard work though. During their travels, the crew had many stopovers and chances to experience different cultures and sights.
"The places we went to weren't your tourist hotspots. We saw the countries as they actually were. I really enjoyed San Juan in Puerto Rico, the Spanish forts were amazing and the history of the place is just incredible," Mr Gibson said.
"The Galapagos Islands were extremely interesting for the wildlife, especially the tortoises, iguanas and seals. At one stage we actually had to shoo seals off our boat so we could get back into the cockpit."
Mr Gibson said he was lucky to have had the opportunity to go places he wouldn't have seen otherwise. "If I were to go on an overseas trip I doubt whether I would choose to go to Cuba, Puerto Rico, Panama and I certainly wouldn't have gone to the Galapagos. Every day was an adventure."