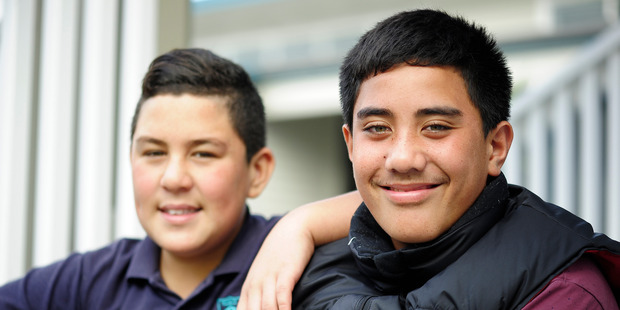 Cousins Kaharoa Takuira-Mita and Zion Nicholas are dealing with their new- found fame after they were crowned champions of a Nickelodeon game show.
Kaharoa, known as Kaha and Zion, were competitors on Camp Orange, a reality game show which brings best friends together and celebrates kids being kids in the great outdoors.
The boys, who had the team name "Kiwi Cuzzies" were crowned this year's "Champ Orange" in Tuesday night's season finale.
The coveted title is awarded to the best and fairest team of the series as voted by kids watching at home in both New Zealand and Australia. Fans cast more than 274,000 votes.
Revealed in an epic fireworks display, the winners' name - Kiwi Cuzzies - was spelt out in fireworks across the sky, followed by a mega slime.
Kaha and Zion were two of 7000 kids from across New Zealand and Australia to enter the competition, only one other team who made it through was from New Zealand, with the remaining three teams from Australia.
Kaha, from Te Puke and Zion, from Whakatane said they were really overwhelmed with the news that they had won.
"We thought we did really well because we were from a small town," Zion said.
"Some of the other teams were from bigger cities but I guess we had a lot of support."
The 12-year-olds said being part of the show was the best thing they had ever done.
"We got to meet Timomatic and other famous people."
The duo said they had been to their local swimming pool and other children had recognised who they were. "We're getting used to it," Kaha said.
Both families celebrated the win by having a "green party", which was the boys' team colour.
The boys won scuba diving gear, Go Pro cameras, ice cream makers and an underwater scooter. They filmed the series at Sea World on the Gold Coast in Australia from March 16 to 22.