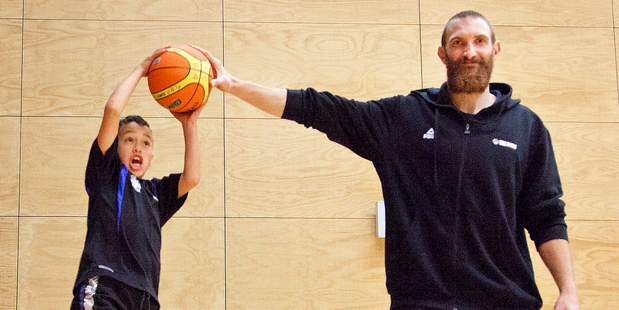 It is truly a dream come true for Mika Vukona to captain the Tall Blacks against South Korea at a sold-out ASB Arena tonight.
The boy from Bethlehem, who grew into a basketball giant, says there is just so much honour coming back here. "Back in the day, you never thought you could play basketball in front of the Tauranga crowd and in a stadium like this, which is amazing," he said. "And to captain is another thing. I am pretty honoured to do that and really looking forward to [tonight]."
The Tall Blacks won the opening match 102-69 in the three-test series against South Korea in Wellington on Tuesday night.
Vukona, 32, is expecting a much tougher clash tonight.
"These guys are known for their shooting. They are a quick team and they had only been in the country a day or two so you have to take that into consideration.
"As they showed in the second half, they don't back down and they came back pretty strong at us. We have to be very wary and not take these guys for granted.
"As impressive as our first win was, we are looking to really hone our skills and really execute everything. We have a lot of pride and you never want to lose against any team that comes to New Zealand."
Experienced Tall Blacks point guard Lindsay Tait, 32, helped his team-mates run a skills' clinic at ASB Arena yesterday for an enthusiastic group of young Tauranga City Basketball players. "I think it is great in terms of helping to spread the word about basketball in New Zealand," Tait said. "To be able to come somewhere like Tauranga, with this beautiful new stadium, and see all these kids running around who get a chance to see some of the top players up close and personal, that is a good thing to help develop our game."
Tauranga City Basketball general manager Mark Rogers is "stoked with how the community has supported the event, the city council and TECT, who have been great in helping us get the event here. I think it proves to them there is definitely passion for basketball in the town."