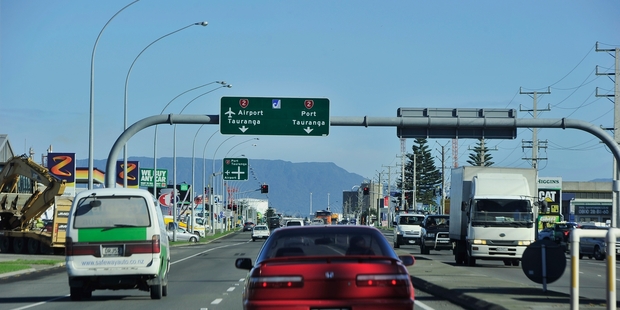 Tauranga has one of the worst urban speed records in the country and a notorious stretch of highway police have dubbed the region's most dangerous road.
Senior Sergeant Ian Campion said Western Bay drivers were also over-represented nationally for intersection crashes and officers were still catching too many drivers not wearing seat belts or those talking on their cellphones at the wheel.
Mr Campion said the city's worst urban roads for crashes were Maunganui Rd and Hewletts Rd in Mount Maunganui, and Fraser St and Cameron Rd, especially at the intersections with 15th and 11th Avenues, in Tauranga.
Those roads had the highest volumes of traffic, multiple lanes (including bus lanes) and numerous business accessways, he said. "There are risks out there and the bulk of those risks are created by people who drive too quickly," he told the Bay of Plenty Times.
Tauranga City Council transportation manager Martin Parkes said that during the past five to 10 years staff had been making safety improvements at the high-risk crash sites across the city and their focus was now on those that posed a medium risk.
This year's safety programme also included installing several new pedestrian crossing facilities across the city, he said.
Mr Campion said the worst stretch of Western Bay highway was State Highway 2 north, between Bethlehem and Athenree, where three people had died this year.
In the five years between 2009 and 2013 there were four fatal, 26 serious and 72 minor crashes on the stretch between Tauranga and Waihi.
The road was straight and most of the crashes were caused by drivers crossing the centreline or making a poor gap selection when pulling out of side roads, Mr Campion said.
"Drivers can't actually afford to relax."
High traffic volumes and commuter traffic in the early morning and evenings were also contributing factors, he said.
The stretch of highway is receiving the "lion's share" of the police staff deployment during this year's winter road safety campaign.
Meanwhile, the New Zealand Transport Agency's SH2 Northern Corridor Safe System project aims to make safety improvements to the stretch between Tauranga and Waihi.
The work focuses on preventing head-on and intersection crashes, which pose the highest risks to motorists, and reducing the consequences when a driver makes a mistake.
Highway manager Brett Gliddon said staff had been working on installing safety barriers and right-turn bays, widening sections of the highway and installing new electronic curve warning signage.
A roundabout would also be installed at the intersection of SH2 and Minden Rd at Te Puna next year.
West of the city the four-lane Tauranga Eastern Link (TEL), due for completion next year, would provide a safer and more direct route between Tauranga and Paengaroa.
Improvements would include straighter roads, wire barriers and wider shoulders.
The Paengaroa roundabout, which opened in May, had also replaced the black spot SH2-SH33 T-intersection.
There were 11 fatal accidents and 44 serious crashes between Tauranga and Paengaroa from 2009 to 2013.