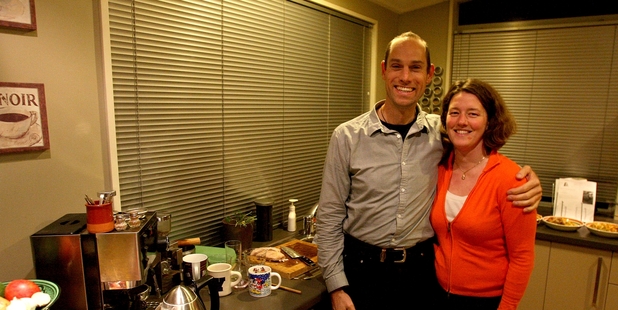 Figures show Bay of Plenty had a 10 per cent increase in multicultural diversity since the 2006 Census. In a weekly series, a Bay of Plenty Times Weekend reporter Ruth Keber focuses on different sections of Tauranga's growing multicultural community.
Tulips, bicycles, and windmills all come to mind when you think of the Netherlands, in the northeast of Europe bordering Belgium and Germany.
Iris and Theo Ursum, from the Netherlands, have left all that behind, along with their home, and have been living in the sunny Bay of Plenty for the last three years.
They moved to Tauranga in September 2011, after living in Napier for two years. They now both work for not-for-profit organisation Volunteer Western Bay of Plenty.
Mrs Ursum said her husband grew up in a city called Hoorn, which was north of Amsterdam with 71,000 inhabitants.
"Founded in 716, Hoorn rapidly grew to become a major harbour town.
"During Holland's golden age or golden century, Hoorn was an important home base for the Dutch East India Company and a very prosperous centre of trade."
The city was known as the home of Jan Pieterszoon Coen who travelled to the Dutch East Indies (now known as Indonesia), where he founded the city of Batavia in 1619, the city we now call Jakarta.
Mr Ursum grew up with his parents and older brother above their shop, which specialised in foreign products, in the historic town centre.
He would spend most of his early days playing soccer outdoors or helping his parents in the store.
Mrs Ursum said she grew up in Muiden.
"A historic town south of Amsterdam with just over 6000 inhabitants. Muiden is famous for its castle and where the river Vecht discharges into the IJsselmeer, or the IJssel lake.
"My school was two streets away, but I had to cross the big bridge across the river. In summer I often had to wait for the bridge as many boats were passing, which was great to watch, but sometimes annoying as it could easily take 20 minutes."
Mrs Ursum said her city was also the home of Pieter Corneliszoon Hooft - a Dutch historian, poet and playwright from the period known as the Dutch Golden Age - and Muier Schipperbitter, a liqueur made from herbs.
The Ursums met in 2001 while they were both working for a travel agency and got married in 2005 on a cold but sunny day with friends and family in one of the country's castles.
Mrs Ursum said the Netherlands had four distinctive seasons that started every three months, unlike here.
"The Dutch talk a lot about the weather and say summer has two weeks of nice weather, which is why many go on holiday to warmer places like France, Spain and Italy.
"Winter is from December 21 to March 21 and can be very cold with snow, ice and temperatures well below zero."
Spring goes until June 21 and could still be cold but was the time when all the bulbs started flowering, she said.
Back home, Mrs Ursum said, breakfast and lunch would mostly consist of bread with cheese, meat or sweet spreads such as jam or chocolate sprinkles.
"But a typical Dutch dinner is potatoes, vegetables and some meat in winter - a one-pot meal like hutspot or boerenkool."
While they love their life in the Bay of Plenty, they do miss aspects of home.
"I miss public transport and being able to ride my bike around town, although I do that here as well. But we love the mild climate and the beautiful surroundings, with plenty of space.
"The Netherlands are very crowded, with over 16 million people living on a small piece of land. You can fit the Netherlands seven times into New Zealand.
"Theo misses going to football matches the most and watching Feyenoord Rotterdam play in a big stadium filled with 45,000 people," she said.