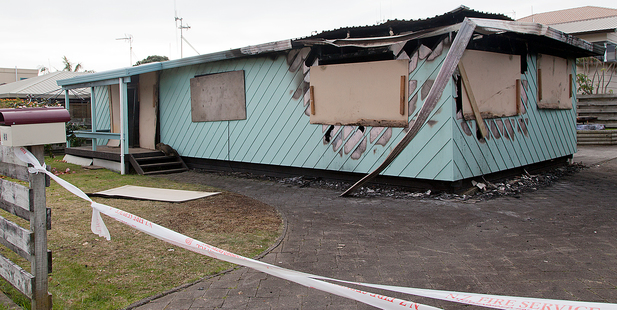 The Mount Maunganui home where a fire nearly claimed the life of an elderly woman if it had not been for a hero police officer will be opened to the public at the weekend.
Mount Maunganui Fire Brigade senior firefighter Shane Baker said the brigade had the woman's family's permission to use the home to help spread the safety message to people.
It will be opened from 12pm to 3pm today.
The Maranui St home caught alight after an electric blanket switch ignited. The home's 77-year-old occupant struggled to get out of the house as it burned, collapsing in front of the door as Senior Constable Adrian Oldham arrived.
Mr Oldham broke into the burning house to pull the woman out to safety.
Mr Baker said there were several safety messages people could learn from the fire.
He said electric blankets should be regularly checked, ideally people should have an escape plan of their home in case of fire, and 111 should be called immediately.
The home was completely engulfed in flames by the time firefighters arrived.
The 'open home' would help show people the damage that could be done by fire, and hopefully remind them to be aware of what they can do to prevent similar situations, Mr Baker said.
FRIDAY JULY 11
WHAT: Brainbusters Charity Quiz
WHERE: Aquinas Action Centre
WHEN: 6.30pm
A high energy quiz event to help us raise funds for Alzheimers Tauranga. Ph 027 281 4842.
WHAT: Rotorua Daily Post Home & Leisure Show
WHERE: Rotorua Energy Events Centre
WHEN: July 11-13
More than 200 stands, with show specials and giveaways.
SATURDAY JULY 12
WHAT: Buffalo Trail Runner Series
WHERE: TECT All Terrain Park
WHEN: 9pm
Team or individual 12km trail run series of two. www.beyondadventureracing.co.nz
WHAT: Jade String Quartet in concert with David Guerin
WHERE: Tauranga Art Gallery
WHEN: 6.30pm
Jade String Quartet in concert with Auckland Chamber Orchestra's David Guerin in this one-off Tauranga concert. Ph 578 7933.
GARAGE SALE FOR A GOOD CAUSE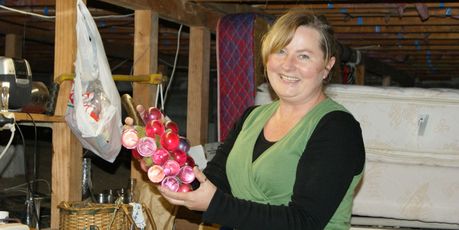 Tauranga Women's Refuge manager Angela Warren-Clark shows some donated items.
Bargain hunters should not miss the monster garage sale for Tauranga Women's Refuge on Saturday as there will be plenty of books, household goods, clothing, and all sorts of retro items up for grabs.
Tauranga Women's Refuge manager Angela Warren-Clark says the organisation always needs donations of quality goods to help them set up new homes for families.
"We are given a lot throughout the year, and most of the goods donated are moved quickly on to the families who need them. At Saturday's garage sale we are selling the items that are left over with the change of season," she says.
"Our need for bedroom items like linen and blankets is ongoing, and we also always need beds, furniture and whiteware like fridge/freezers and washing machines."
Angela explains that anything that can be used to set up a home from scratch is welcome.
"We are also always grateful for baby products like nappies and wipes and things for toddlers.
"Sanitary products are most welcome, too. Tampons especially are expensive and we like to give every woman that comes to us her own toiletry bag."
"I would like to say thanks to everyone who has helped us throughout the year, and I'd like to give an extra big shout out to the Bethlehem Te Puna Lions for their help," Angela says.
People who can assist with items can contact the office on (07) 541 1912 to organise drop off.
The Monster Charity Garage Sale is on Saturday, July 12, 7am-noon at St James Church, 70 Pooles Rd, Greerton.
Tauranga Women's Refuge is grateful for all donations of quality items and household goods but do not accept electric blankets unless they are brand new or tested, gas heaters, TVs without Freeview, soft toys and old computers.