Business writer David Porter today kicks off a new weekly feature profiling the Bay's top business executives. Today, he talks to Trustpower's Vince Hawksworth.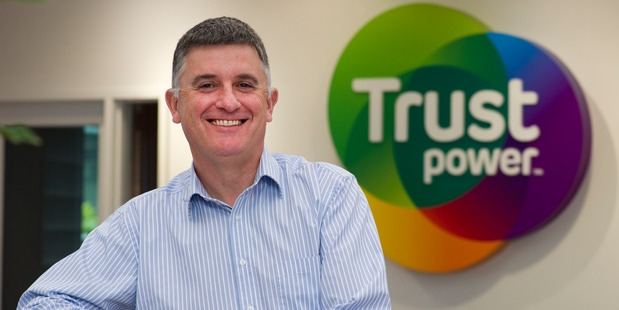 Vince Hawksworth knows what it's like to work at the coalface. The chief executive of NZX-listed Trustpower started his working life as an apprentice miner in Rufford Colliery, near Nottinghamshire in England.
A less than glowing performance in his college "A" levels saw him at 18 working for a year on building sites while he figured out what to do next. He ended up enrolling for a diploma in mining while working part-time in the industry.
Mr Hawksworth credits a thirst for continuing education to his eventual move into senior business management roles in New Zealand and Australia, via an MBA at Waikato University and programmes at Stanford University and INSEAD.
Quietly spoken, with an accent that traces back to a childhood in the market town of Bishop Stortford in Hertfordshire, near London, Mr Hawksworth is praised by colleagues as an inclusive and collaborative leader. Those traits were developed in the course of a career that has seen him having to learn the social customs of life in Huntly and Hobart, and deal with industrial picket lines during the often bitter and disruptive restructuring of Britain's coal industry.
"I was fortunate that the then National Coal Board took me on as a student apprentice, so I was able to continue my poly course while being paid," said Mr Hawksworth, who trained as an underground miner and eventually worked regular shifts on the coal face.
He was then encouraged to move into supervisory roles at the colliery, opening him up to what he sees as a second key factor in developing a successful career.
"If you're working for someone who trusts in you, and who you believe will support you, you should always take the opportunities that they put in front of you," he said.
"All too often in careers, the uncertainty people feel as to whether they're ready means they don't take the next step."
Mr Hawksworth rose to an acting deputy manager role at Rufford Colliery, but by 1993 the British coal industry was in free fall after a decade of industrial strife. When he began in the industry there were more than 100 mines employing 100,000 people -- by 1993, that was reduced to fewer than 50 mines employing 50,000 people and the trend was downwards.
"Clearly my next opportunity was going to be at best a sideways move," said Mr Hawksworth. He and wife Jane, then a psychiatric nurse, saw that New Zealand was seeking qualified migrants and arrived in Auckland in August 1993. Jane got a job within two weeks, but it took Vince three months before he found a position as a production manager at the then Huntly Brickworks, now Thermal Ceramics NZ.
The family relocated to Hamilton. Working in Huntly, where after two years at the brick works he went to work at the Huntly power station, taught him another key lesson, the need to be adaptable. Life in Huntly, with a big Maori community, was a huge cultural change, including learning what "bring a plate" meant.
"It could have been a disaster if we'd spent our time complaining because the beer was cold instead of warm back in the UK," he said. "But they were a great bunch of people, tough but very welcoming. If you're going to make a success of moving environments, you need to have an open mind."
By 1998, Mr Hawksworth was immersed in the Max Bradford-led reform process, which saw the Electricity Corporation of New Zealand assets privatised and split up. He initially worked as an adviser for the transition team for the Huntly and Tongariro assets and eventually served first as general manager generation, then general manager retail for what became Genesis Energy.
He was then headhunted in 2006 for his first chief executive role, at Hydro Tasmania, as the Australian Government-controlled enterprise moved into a market-focused phase.
"The economic performance wasn't what the government needed and they didn't want to put any more money in," he said. "It was great for me because I moved away from a public service style of leadership towards a more commercial approach."
However, though they loved living in Tasmania, after four years the family wanted to return to New Zealand. Mr Hawksworth landed the Trustpower role in May 2010, replacing retiring chief executive Keith Tempest. His Australian experience has helped him refine and reaffirm the company's commitment to its diversification strategy across the Tasman.
"I was delighted to get the Trustpower role," said Mr Hawksworth. "They had a huge reputation for leadership in the sector. It ticked so many boxes, including running a listed company -- and moving back to New Zealand and to Tauranga."
Chris O'Hara, Trustpower's general manager commercial operations, observed that Mr Hawksworth had faced a challenge coming into a successful company with a settled senior management team that was functioning well.
"If somebody had come in and tried to do an iron rule thing, it would have lasted about five minutes. His leadership style has really worked in this organisation because it is collaborative and inclusive."
Vince Hawksworth
Role: Chief executive, Trustpower since 2010.
Age: 55
Born: Ilford, Essex, England
First job: Coal mining apprentice
Currently reading: Tragedy at Pike River Mine by Rebecca Macfie