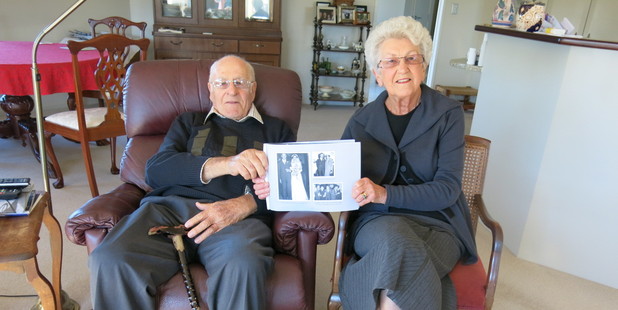 Hard work and keeping busy are the keys to staying married for 60 years, say Te Puke couple Janet and Peter Pittar.
They were married on July 10, 1954, in Hunterville.
Peter remembers it well, not only because it was his wedding day but it the first time he had ever been in falling snow.
The young couple met through Janet's cousin Alistair Simpson, who was a rugby-playing friend of Peter's. She worked in the Bank of New Zealand in Tauranga and used to stay with her aunt and uncle at Papamoa.
On Christmas Eve, 1953, Janet was travelling home to her parents' place in Hunterville by train from Hamilton. Her train was stopped at Taumaranui and passengers were told of the Tangiwai disaster where the overnight train from Wellington to Auckland was swept away by a lahar, which resulted from volcanic activity.
Passengers with Janet were taken by bus and arrived at Tangiwai at daybreak to see the carnage caused by the tragic loss of 151 lives.
Meanwhile, Peter was fanatically trying to reach Janet's family to hear if she was okay. He heard about the accident at 5am while milking cows but didn't know if it involved her southbound train. Eventually, he got through to Mrs Kitty Simpson and was very relieved to hear Janet was safe.
Planning for their wedding suffered an early setback when Peter wasn't sure if he had a job or not. Peter's working life has involved farming - dairy cows and also beef cattle; contracting - digging drains, baling and carting hay and stock; land developing and later working as a real estate agent.
His life involved work until he was into his 70s.
Alongside Peter, Janet worked, cooking for the extra workers employed in the farming, contracting and carting businesses. She was also involved with Plunket, and later school life, Girl Guides and sports as their two daughters, Elizabeth and Margo, grew up.
"Without our daughters, we might have lived self-centred lives," said Janet. "Children keep you focused."
Mrs Pittar said one of the jobs she enjoyed most was her 18 years in the office at Te Puke High School.
"I still meet young people who were students then and we have a chat. They were great years.
"I liked helping the students and I didn't have to discipline them so it was good fun."
The Pittars are not planning any huge celebration for their anniversary.
"We'll have a few friends and family around on Saturday but most of our grandchildren are overseas. They'll be coming home for a granddaughter's wedding later this month, so we'll be catching up with them all then," said Janet. "And Peter has a hospital appointment on the 10th that he plans to keep."
Both are now in their early 80s and enjoy active old age. Janet with her bridge and mah jong club meetings and Peter regularly goes trout fishing on Lake Rotoiti.
Janet said she really enjoyed her stint as Te Puke's Senior Ambassador in 2009. She met and helped promote several organisations and had a lot of fun.
For Peter's 80th birthday, his daughter Margo arranged the publication of his journals about his life growing up in the Te Puke district. It's a good read and worthy of a place in any collection of books about Te Puke.