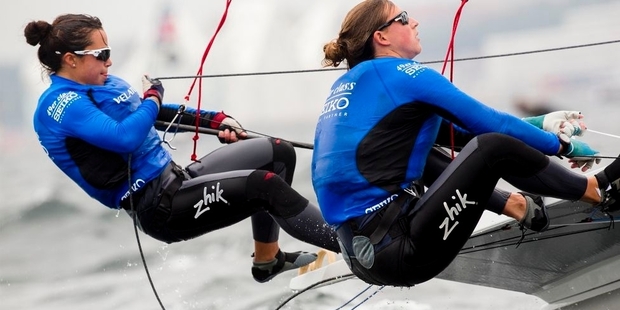 Racing is under way at the European Championships for the Olympic 49er and 49erFX skiffs in Helsinki and also for the Olympic Nacra 17 multihulls in La Grande Motte.
Tauranga duo Gemma Jones and Jason Saunders are New Zealand's only crew at the 2014 Nacra 17 European Champs in France. They have made a great start after day one on Monday was cancelled due to light winds.
Jones and Saunders won the first race for the grey fleet and followed with an 11th and 8th place, a pair of solid results that counted for points.
"We had three keepers which is good from a first day like that," said Jones. "It was very shifty, very up and down and when we first went out it was very windy. The first and second races were a bit lighter.
"We feel like we had good speed and were racing quite well but just have to get on the right side of the wind-shifts."
Peter Burling (Tauranga) and Blair Tuke, Olympic silver medallists and reigning world champs, opened the regatta with a race win, and then placed 12th and 4th in the subsequent races. They are 6th overall in the standings and content with the start they have made.
"Solid day one for us here at the European Champs," said Tuke. "Couple of missed opportunities but all in all a nice start to a long week."
Points are predictably close for the leaders at this early stage in the six-day regatta and the New Zealanders can be grateful they're not one of a number of crews suffering boat damage after coming in contact with a rock, or the bottom, off Helsinki.
In the 49erFX fleet of 51, Alexandra Maloney and Molly Meech (Tauranga) lie 17th after four races. Their results were 8th, 11th, 6th and 9th, which they are keen to improve on.
"Tough first day for us, as we forced ourselves to play catch up in all four races," said Meech.
"We are happy there are plenty more races over the next five days to improve on today's performance."