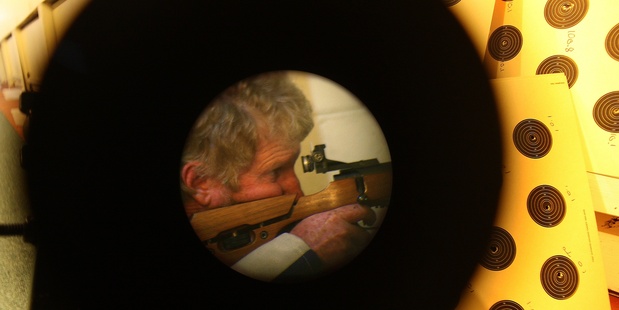 Rifle shooting is enjoying a rise in popularity in Tauranga thanks to New Zealand's recent shooting successes, a local rifle club secretary says.
But he warns there is still a "phobia" around guns.
Police figures show more than 25,000 people hold firearm licences in the Bay of Plenty police district, which includes Tauranga.
Gun ownership has been in the spotlight after thieves made off with a huge stash of weapons from an Auckland house last month, including semi-automatic rifles, shotguns and 5000 rounds of ammunition.
Days later, two shotguns were stolen in a daylight burglary in Dargaville.
Police also seized 112 firearms nationally from people involved in the drug trade as part of their annual cannabis operation.
Tauranga Target Rifle Club secretary Andy Lawson said the club's popularity was growing, largely thanks to its image as a more serious sport.
"It's not a bottom-level sport anymore. We've got a few people in New Zealand that have won [gold medals] in shooting but there's still a big phobia about guns."
Getting a firearms licence required people to jump through a series of hoops, but this was necessary to keep the wrong people out, he said.
"You get people who will join the club to get their arms licence and then leave the club."
Weapons and explosives offences in the Bay of Plenty district dropped from 621 in 2011 to 596 the following year. Offences numbered 574 last year.
Nationally, the total number of licence holders is 242,158 as of May 28 this year.
While there are 1.5 million firearms in circulation, firearm-related offending makes up only about 1.4 per cent of crime.
More than 5670 weapons and explosives offences were committed in the year to December - down from 6063 the previous year and 6362 in 2011.
Police said the drop could be partly attributed to a "robust" vetting regime for firearms licences.
"As part of the process, the applicant must provide two character referees, one of whom must be a spouse, partner or relative, who will be interviewed separately," a police spokesman said.
Applicants and licence holders had to have "secure" storage for firearms - without which they could not hold a licence.
Firearms in New Zealand are licensed by owners, not by the number of guns, so there's no way to know how many guns a licence-holder owns.
Anyone 16 and over can apply for a standard firearms licence, which allows them to use sporting type rifles and shotguns and some air rifles.
Anyone wanting to use a pistol, semiautomatic rifle, or other restricted weapons must apply for a special addition to their licence. Standard licences cost $126.50.