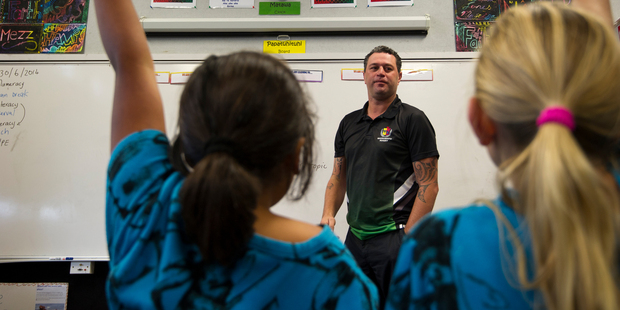 Teaching students to grab hold of every opportunity that comes their way is one of the things Regan Williams likes most about his job.
Mr Williams is the Year 5 and 6 teacher and deputy principal at Maketu School and has been there since the start of this year.
He is a relatively new teacher, having started his career four years ago at Te Puke Intermediate. "I've got a bit of a sporting background, but then I got a neck injury - a spinal cord injury, so for a couple of years I wasn't really doing much because of that.
"A few of my mates were into teaching and I thought with all my travelling with rugby and stuff, I could get into teaching because of my life experience."
Maketu School was "heaps different" than his previous school as the community was smaller and closer, Mr Williams said. Going to a younger group was also more challenging, he said. "The kids have to be scaffolded a bit more and it takes them a bit longer to get the concept just because of their age.
I enjoy watching the kids grow and giving them insight of what they've got to look forward to in future and to take those opportunities when they come. I had a lot of opportunities but didn't take them."
Working at the intermediate before coming to Maketu meant Mr Williams could prepare his senior students for what to expect when they went there.
Mr Williams kept a tight leash on his class.
"I have pretty high expectations in behaviour management. I think without those it can be a difficult job, but if you have those sussed, it should be all good."
Being a good teacher was about finding out what excites the children and teaching them to what they want to learn, he said.