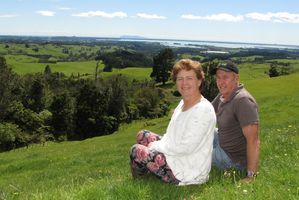 Katikati couple Rick Burke and Jan Loney are in Christchurch and will find out tonight if they have won the national Ballance Farm Environment Awards.
The duo, pictured right, took out the supreme title in the Bay of Plenty awards earlier this year for work on Pukekauri Farms in the foothills of the Kaimai Ranges. They are up against nine regional contenders.
The judges praised the couple's teamwork and excellent people skills, noting the outstanding plantings on riparian areas and marginal land.
They were also impressed with the excellent production being achieved on the rest of the farm.
Pukekauri is made up of 250ha owned by the Seddon Family Trust, a 50ha joint venture between the Seddon Family Trust and Mr Burke, plus a further 50ha owned by him.
A total of 212ha is effective grazing land, with 110ha in covenanted mature native bush, wetlands and riparian planting and 28ha in plantation pines, redwoods and Cyprus lusitanica.
Mr Burke told The Bay of Plenty Times he had his "fingers crossed" on the eve of the event.