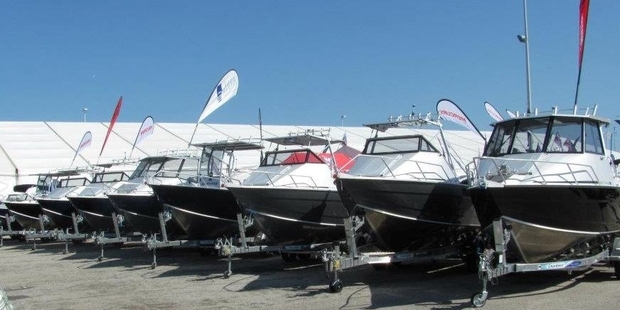 Surtees Boats, the Bay of Plenty-based recreational fishing boat manufacturer, is looking to gear up its production capabilities in response to strong local and export demand, says Toni Palmer, one of the five shareholder directors who are closely involved in the company.
"There are plans to expand," she said. "We just want to make sure we don't bite off more than we can chew. Growth is one of those things that can be a death knell for a company - we want to make sure it's controlled and we're trying to do it in-house from cash flow."
The company had learned a lot during the global financial crisis, she said.
"We were never under any threat during the GFC, but all the shareholders have other outside businesses and we all saw what the GFC could do. It taught us to be very cautious and make sure we remain in a strong position."
Surtees Boats was started by Neil Surtees in 1992 in its present location near Whakatane.
In 2005, he decided to sell and Tabak Business Sales, in which Ms Palmer is a partner, was brought in to advise on the sale. Ultimately, Mr Surtees decided to remain a shareholder and Ms Palmer decided to invest in the company. The original eight shareholders eventually became five, including Mr Surtees and Ms Palmer, along with Phil Sheaff, who serves as managing director, his brother, Dave, and Don Howard. All of the owners are based in Tauranga or Whakatane.
Ms Palmer said the company was unusual for a private company in that it had a strong governance structure with regular board meetings and significant input from all the directors, who originally invested in the company because they shared a love for boating and fishing.
The company has a staff of 46 and now makes about 330 boats a year, selling 55 per cent to Australia and the balance in New Zealand. Its export success saw it make the finals for tomorrow's BNZ Bay of Plenty ExportNZ Awards in the exporter of the year category.
Ironically, it was the GFC that triggered the company's successful move into exports. With the downturn in the local market in 2008-09, the company looked to Australia to soak up its excess capability.
The company began with a national distributor, but eventually moved to set up dealership arrangements in each state, said Ms Palmer.
"We took baby steps to get in, then Australia has just taken to them," she said, adding that the company currently had pre-sold orders of 200 boats in addition to its current production capacity.