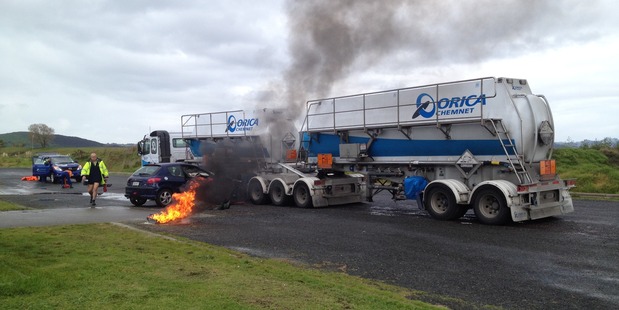 A simulated scenario practice for chemical tanker drivers saw a tanker and car collide near Tauranga this afternoon.
A tanker transporting a dangerous chemical collided with a car, resulting in a fire, serious injuries and chemicals running into nearby waterways.
Twenty-four tanker drivers will face the scenario as they practice their emergency response skills at ASB Bay Park Stadium over the next two days.
Orica Supply Chain Manager Louise Wood says the firm's Emergency Response Exercise, held annually, was an important part of Orica's health and safety and training programme.
"Our nationwide fleet of 22 bulk liquid tankers delivers a range of chemicals to our customers every day around the country. We're proud to have a very good safety record and strong relationships with the emergency services and local authorities.
"However it's crucial that our tanker drivers are regularly put through their paces so they are fully prepared to respond in the event of an incident such as a road accident."
Orica, which operates a large chemicals manufacturing and storage facility adjacent to the Port of Tauranga, is working with the Fire Service and Police to make the exercise as realistic as possible, with all parties using the opportunity to learn and improve their skills.
Ms Wood said the exercise had been carefully planned to be as realistic as possible.
"Orica drivers currently receive a significant amount of training in chemicals handling, spill response and safe driving but the opportunity to test those skills in the event of a significant safety incident is difficult.
"By running an Emergency Response Exercise on an annual basis, the whole team gets the opportunity to practise our emergency procedures in a simulation, which is as realistic as possible.
"As a business, we aim for zero incidents. But in the event of one occurring, our goal is always to minimise harm to people, property and the environment."
Orica's Emergency Response Exercise is being run in a controlled environment at ASB Bay Park Stadium to ensure minimal disruption to the public.