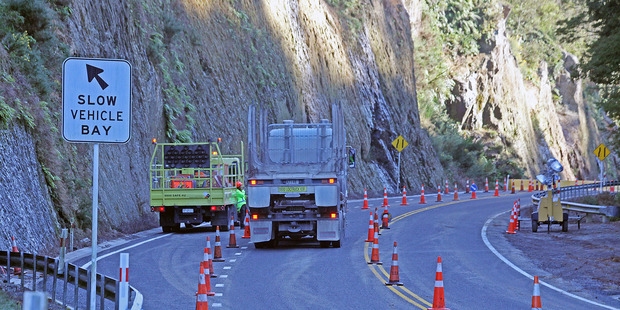 One of Tauranga's main arterial routes will be closed this week as work begins to reduce the risk of slips in the area.
A section of State Highway 36 at Mangowera Gorge, between Tauranga and Rotorua, will be closed from 9am until 4pm on Wednesday to allow contractors to use the helicopter to flush out soft soil and vegetation above a section of the road.
A helicopter carrying a monsoon bucket will drop upwards of 5000 litres of water on to the highway as part of the works, pending weather conditions.
The closure time has been chosen to allow commuter traffic travelling between Rotorua and Tauranga to pass through during peak hours.
The NZ Transport Agency advises motorists wishing to travel during the closure to use SH2/SH33 via Te Puke.
The section of SH36 has been down to one lane since Easter weekend following a large slip caused by heavy rain, with traffic management in place.
The Transport Agency's Bay of Plenty highways manager Brett Gliddon said the works are preventative and will make that section of highway safer for motorists by preventing slips in the future.
Mr Gliddon said the helicopter would fill large a monsoon bucket with water, which would be dropped onto the rock bluff above the road to flush out soft soil and vegetation.
Contractors will use diggers and trucks to move the soil offsite, leaving hard rock above that section of SH36, he said.
"The Transport Agency apologises for any inconvenience but we are focused on creating safer journeys for road users," he said.
"We appreciate motorist's patience while these important works are completed."
The road will be reopened to one lane after the helicopter is finished to allow contractors to clear the soil and vegetation off the highway.
Weather permitting it is expected both lanes will be fully open by the Saturday, June 28.
For real time information on highway conditions and incidents visit www.nzta.govt.nz call 0800 4 HIGHWAYS or follow @nztawaibop on twitter.
For personalised information about driving conditions on their frequently used routes, motorists can check out and sign up to On The Move at www.onthemove.govt.nz.