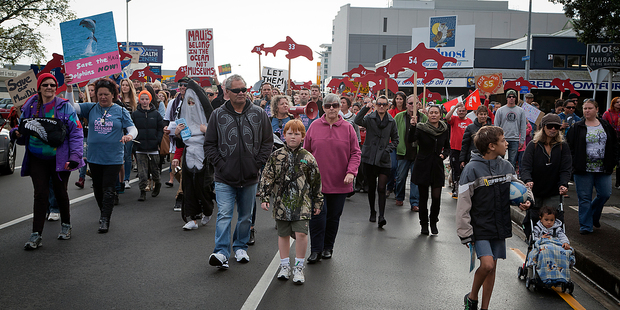 Tauranga MP and minister Simon Bridges and Labour's Rotorua candidate clashed following the fallout from a decision to allow oil exploration inside a marine sanctuary, home to critically endangered Maui's dolphins.
Their war of words followed a protest at Mr Bridges' Devonport Rd office on Saturday.
Former weatherman turned politician Tamati Coffey labelled Mr Bridges "arrogant and out of touch" after the Energy and Resources Minister failed to show at the protest.
Mr Coffey organised the protest to express opposition to oil exploration in New Zealand's West Coast Marine Mammal Sanctuary, home to Maui's dolphins. There are only 55 left in the world.
An estimated 300 people turned out to protest but Mr Bridges was not present.
"I think it was cowardly for him not to show up," Mr Coffey said.
There was heated feedback on the Bay of Plenty Times' Facebook page.
Mr Coffey said he believed the controversy would "absolutely have an effect on how people decide to vote" in this year's election.
"I spoke with National Party supporters who were upset with the way he handled the Rena and now how he has handled this.
"His behaviour is not becoming of someone they want representing them in Parliament," Mr Coffey said. "That sheen - the smiley, nice-guy image - he's been riding on has become unstuck."
Mr Coffey said the protest was staged in Tauranga because it was Mr Bridges' electorate.
Another protest has been arranged to take place outside Prime Minister John Key's Helensville electorate office in mid-July.
Mr Bridges responded that he was still "the same good guy" people voted into Parliament three years ago.
"Obviously, we are close to an election and we had this last election, where things often get a bit silly," Mr Bridges said.
"I have a significant portfolio with controversial issues. I hope that I'm still a nice guy."
Mr Bridges attributed most of the negative feedback as coming from online bullies, also known as trolls.
Tauranga Mayor Stuart Crosby said he felt uncomfortable with the prospect of offshore drilling.
"I've always opposed offshore drilling, particularly as a result of what happened with Rena and what a small oil release did to our coastline," he said.
Western Bay of Plenty Mayor Ross Paterson said people needed to have "good discussion" to air both sides of the debate.
Simon Bridges responds:
THE Government is committed to the safe, responsible development of New Zealand's natural petroleum and minerals resources. Development must be balanced against environmental considerations and I am confident that the regulatory regime we have in place ensures that we can achieve this balance.
Concerns have been raised about the welfare of Maui's dolphins that live off the West Coast. The Government takes those concerns seriously, but the threat to Maui's dolphins from oil and gas development is very small.
Ninety-five per cent of threats to Maui's dolphins come from fishing-related activities, with set nets the biggest threat. The Government has put in place fishing restrictions to ensure that the remaining population of dolphins are protected.
The Government also takes seriously the concerns regarding the effect of seismic surveying activity on Maui's dolphins. There are seismic surveying restrictions in place within the sanctuary. Outside the sanctuary potential effects can be minimised under other mechanisms, including the Department of Conservation's 2012 Code of Conduct for Minimising Acoustic Disturbance to Marine Mammals from Seismic Surveying Operations. Also, the regulatory regime for offshore exploration and production has been strengthened and provides greater confidence that the effects of offshore activity are managed responsibly.
It is worth remembering that in the Taranaki region conservation efforts and exploration have co-existed since the 1960s. Despite scaremongering from the Greens, 23 wells have already been drilled within the West Coast North Island Marine Mammal Sanctuary in the past 40 years without a single incident involving Maui's dolphins. Eighteen of those wells were approved under Labour, not National, Governments. New Zealand's largest producing gas field, Pohokura, operates within the sanctuary.
It would be economic nonsense to shut down a $3billion dollar oil and gas industry that employs more than 7000 people on the tiny chance that a Maui's dolphin may be harmed from that industry when they have never been harmed before and have never been observed within the Block Offer 2014 area.
Maui's dolphins have only been observed between the Kaipara and Kawhia Harbour out to seven nautical miles.
The benefits to New Zealand of well-managed exploration and production activities are significant. The Crown receives about 42 per cent of petroleum profits in tax and royalties.
At the current rate of exploration and production, this equates to around $400 million in royalties and $300 million in company tax annually.
This revenue is invested in services and infrastructure that benefit all New Zealanders, such as our schools, hospitals and roads. However, we also have a responsibility to ensure that we preserve our unique environment and ecology.
I believe that we can achieve a successful balance between the two, and I am committed to the safe, responsible development of New Zealand's natural resources for the benefit of all New Zealanders."