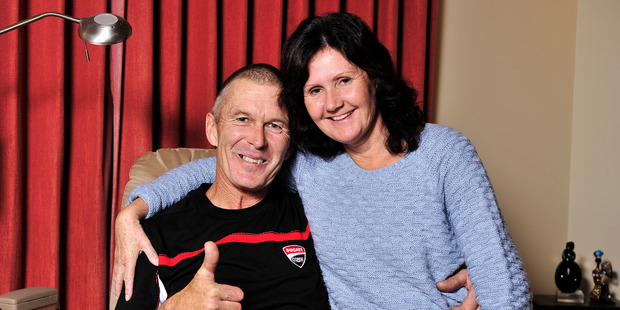 Welcome Bay couple Sue and Ray Carroll have half a million more reasons to smile after a huge windfall, meaning a dream of going on an African Safari has become a reality.
Mrs Carroll, 52, spun $500,000 on Saturday night's Lotto's Winning Wheel after her self-employed builder husband bought a $6 lucky dip from Bethlehem Four Square the previous weekend.
Mrs Carroll, who is a teacher at Greerton Kindergarten, said she and her husband hadn't stopped smiling or slept much since their big win.
"It's still very exciting for us and seems quite surreal," she told the Bay of Plenty Times.
Mrs Carroll said she and her husband had not been regular lotto ticket buyers.
"But we bought one last weekend because I told Ray I felt a bit lucky this week," she said.
During the lucky spin held in Auckland the couple were joined by Mrs Carroll's twin sister Kathryn and niece, and her older sister Anne.
"Ray and I both said we would be happy with $100,000. I spun the wheel as hard as I could and it wavered between $150,000 and $500,000 before it eventually clicked over.
"I haven't seen the video footage myself but everyone tells me my eyes were as big as saucers and my jaw dropped."
Mrs Carroll said so far they have two things on the spending wish list - a Kawasaki 300 motorbike for her and going on an African safari.
"I have always wanted to see elephants and other animals in the wilds of Africa," she said.
When the Carrolls are not kept busy working on their lifestyle block, they often take to the road by motorbike to enjoy the Bay of Plenty landscape.
Mrs Carroll said it had been an "absolutely fun" weekend which started with being "treated like royalty" by the Lotto officials including being put up in a swanky hotel on Auckland's Viaduct.
"After the Lotto draw we celebrated with dinner and drinks and there were plenty of 'oh wow' moments during the whole weekend, " she said.
Mrs Carroll said before firming up their spending plans she and her husband would sleep on it.
"We are pretty cautious people," she said.
This week's Winning Wheel ticket was sold at Pak'NSave Moorhouse in Christchurch.
The serial number is 217-65269003-20XX.