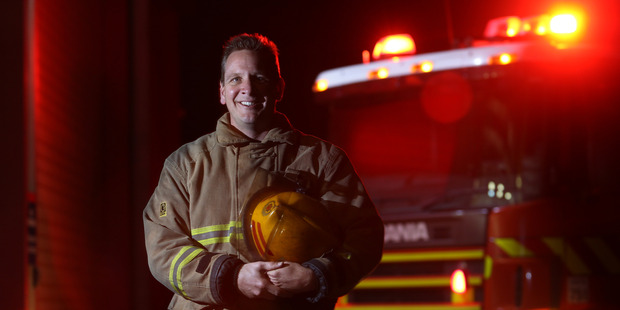 Reporter Cameron Scott talks to senior firefighter Luke Burgess who has been awarded a New Zealand Bravery Medal in the 2014 Special Honours List for his heroic efforts in helping rescue two women and a group of students from the collapsed CTV building in 2011.
Greerton senior firefighter Luke Burgess recalls vividly February 22, 2011 - it was the day Christchurch was shaken violently by a 6.3 magnitude earthquake.
"It's the day everything changed," the 40-year-old senior firefighter said.
On that fateful day Mr Burgess was working in his former office at Christchurch's Kilmore St fire station when at 12.51pm all hell broke loose.
The magnitude 6.3 quake struck with a terrifying rumble, shaking the building apart.
"When I looked outside, there was just a fog of cement dust," he said. "Stuff was falling down all over the place."
Mr Burgess and three other firefighters drove onto the street, stopping to help wherever they could.
"We were incredibly busy ... then we were told to go to the Canterbury Television [CTV] building in Madras St, where people were trapped."
A member of the Urban Search and Rescue Team, Mr Burgess used all of his training, but said nothing could have prepared him for such a horrific real-life situation.
"I knew people had lost their lives, but mostly I was focused on what we were doing."
Mr Burgess and his fellow firefighters dug two 60cm wide tunnels through the wreckage of the six-storey building, struggling side by side in pairs to remove wreckage and bodies. There was no room for breathing gear or safety helmets.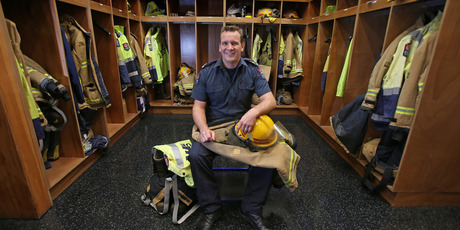 In fact, as the citation for his New Zealand Bravery Medal revealed, Mr Burgess and his fellow firefighters rescued two women and located a group of students trapped beneath a beam.
Two bodies had to be removed before the students could be reached.
In the tunnel adjacent to Mr Burgess', one survivor had to undergo an amputation before being freed from the wreckage. In total 115 people were killed in the CTV collapsed building.
A reluctant hero, Mr Burgess emphasised that the CTV rescue was a team effort and that the team deserves the medal.
"I'm not into talking about myself. Every single member of the Christchurch Fire Brigade did a fantastic job and I'm really proud of them," he said.
Mr Burgess admits feeling bitter when the brigade was later criticised for the way it handled the rescue. "But I realised later that the criticism came from a grieving man and I feel nothing but sympathy for him and all those who lost people. I can honestly say that we all tried our very hardest."
Totally spent, he finally got back to his South Brighton home in the early hours, joining wife Vanessa, and children Noah, 10, and Daisy, 6.
Now living at Waihi Beach from where he commutes to his job at Greerton Fire Station, Mr Burgess said these experiences had put into sharp focus the things that matter in life.
"It's all about family and friends ... It's relationships that matter the most," he said.