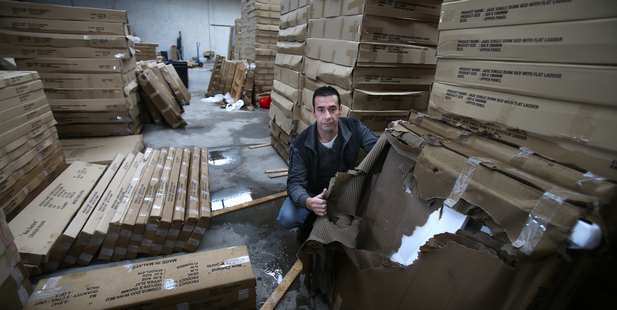 Commercial areas of Greerton and Windermere flooded in last week's storm could be bumped up Tauranga City Council's stormwater works priority list.
Tauranga's deputy mayor and ward councillor for the area, Kelvin Clout, said the rates levy, which will raise an extra $5 million this year for stormwater relief works, was not targeting the catchment that failed last week.
Cr Clout said he sympathised with the businesses, which clearly had a case to be bumped up the priority list.
Pressure has increased on the council to reorder its priorities for stormwater protection works since the Waimapu River burst its banks, flooding Greerton Park and sending water surging through the Greerton Marist clubrooms and businesses in Roxanne Place and Glenlyon Ave.
New Zealand Lifestyle Imports director Gary Jefferson, whose business is on Glenlyon Ave, said earlier this week his warehouse was hit hard when the drain running behind the building overflowed.
Although the priority for the levy is Matua and Mount Maunganui, the priority for the Waimapu River catchment will be debated later this year when the council reviews its 10-year plan.
Cr Clout indicated the financially constrained council would have more room to accommodate other stormwater capital works if the levy was continued on an on-going basis.
Complaints that the silting up of Waimapu River was part of the problem was an issue for the Bay of Plenty Regional Council. However, the issue of who cleaned up the big slip that fell into the river from Yatton Park needed to be sorted out, he said.
The other ward councillor for Te Papa/Welcome Bay, Bill Grainger, said the major stormwater protection focus was on Matua and the Mount. If there was enough money in the kitty they could look at other areas of major concern such as Roxanne Place. He said Tauranga was hit by belts of rain, so that one storm behaved differently to the next, and last week it was Oropi's turn to cop it.
Cr Grainger said the council was now being bitten by years of stormwater protection works having been deferred and some tough decisions needed to be made around stormwater priorities.
"It all comes down to debt and rates. It is a balancing act. We will do the best we can."
Mayor Stuart Crosby said the Waimapu River catchment was one of the priority areas for 2-D stormwater mapping so they understood where the water would go in particularly heavy rain.
He met staff yesterday who showed him the 2-D modelling for the Waimapu catchment, which - once it was verified - would go to councillors and the community. The map formed the basis for solutions that would then be budgeted and rolled out through financial planning.