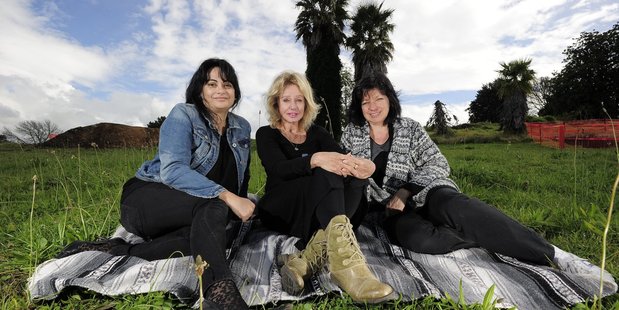 Tauranga's first and long-awaited private birthing facility will open in October.
The Bethlehem Birthing Centre will provide another birthing option for women having natural, non-complicated births and will be free to all women eligible for publicly-funded maternity services.
Negotiations were still being finalised with the Bay of Plenty District Health Board over plans to allow women who have given birth at Tauranga Hospital to receive post-natal care at the birthing centre.
Supported by Tauranga Hospital and the DHB, the centre is the brainchild of Tauranga businesswomen Nicky Campbell, Chloe Wright and Gabi Buechel.
"We want to provide a safe and beautiful non-hospital setting for women having a natural birth, in a nurturing environment. The centre will be a sanctuary for new mums and their families where mums and babies will have the best chance to bond and achieve a positive start in life," said Ms Campbell, who is the centre's chief executive.
The purpose-built 12-room centre will occupy the upper level and part of the ground floor at a new building under construction on the corner of State Highway 2, opposite the Z service station.
Mothers will be able to stay up to three nights after the birth, each having their own room with an ensuite, queen bed, flat screen TV and bath that can be used as a birthing pool - with deluxe rooms available for a fee.
Fathers will also be able to stay for the first night after the birth.
All staff will be trained to respond to an emergency situation. However, an expectant mother with a history of complications will need to talk to her midwife about whether the centre is the right place for her to give birth, she adds.
A registered midwife will always be on call and women wanting to book into the centre will need to book a midwife who had signed an access agreement to use the facilities.
"The midwife will make the necessary arrangements for the mother to have her baby at Bethlehem Birthing Centre in the same way patients are booked in at Tauranga Hospital," she said.
"This is to help us plan ahead for a woman's arrival and to optimise care for both mother and baby."
Post-natal care will include help with mothercraft skills such as breastfeeding, bathing and wrapping a baby. Yoga and pilates classes and information about the importance of exercise and a healthy diet will also be offered.
"The first few days after a baby is born are so important for mother and baby to connect and bond for the best start in life together," Ms Campbell said. "Our aim is that mums and dads return home feeling empowered and confident in their own ability to take care of their baby."
Founder Chloe Wright said the centre is committed to giving its "absolute best care" to mothers and babies.
"The birthing centre will be a place of integrity and trust to promote honest and open communication and actions that should enhance the birthing experience for our mothers," she said.
Gabi Buechel, also a founder, said the centre will take a holistic approach.
"We want to provide valuable information and post-natal support to new mothers so that when they return home they are prepared for their new role and can care for their baby with greater confidence. It's such a special and crucial time of bonding for mother and baby."