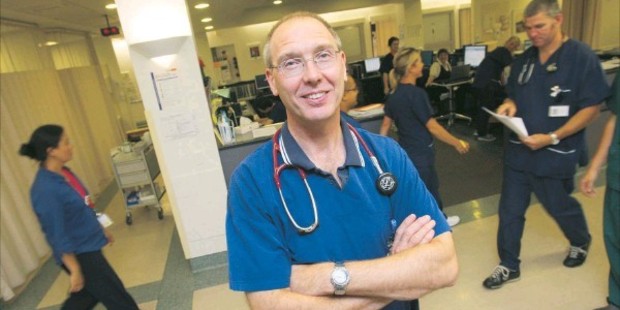 Hundreds of Bay hospital staff have been attacked on the job by patients and visitors, with injuries ranging from minor bruising and shock to broken limbs and black eyes.
Bay of Plenty District Health Board figures show there have been 875 attacks on staff at Tauranga and Whakatane hospitals by patients and visitors since 2010, including 67 this year.
The figures did not include verbal attacks on hospital staff.
District health board employee health and safety services manager Ted Harper said there had been a reduction in the severity of the injuries resulting from the assaults.
"Of the incidents reported in the last 12 months (to May 31, 2014), only one was serious enough for an ACC claim to be lodged and this person did not take any time off work," he said.
The board was always concerned about staff being injured and exposed to physical violence and no staff members were expected to put themselves at risk, Mr Harper said.
The board had a zero tolerance for violence and an on-going training programme for at-risk employees plus full-time security in the emergency department had helped reduce assaults, he said.
"There is never an excuse for aggressive behaviour."
New Zealand Nurses Organisation professional adviser Suzanne Rolls said nurses were often assaulted at work and it was unacceptable that there were so many cases.
"We can't afford for nursing staff to be assaulted. It takes a lot of time and money to educate nurses," she said.
"We need to eliminate this behaviour in all areas of the health system."
Assaults on staff in 2011 prompted the placement of a security guard in the emergency department during high-risk times and on-going training for staff in managing aggressive behaviour. High-risk times were from 6pm to midnight during the week and 6pm to 6am at weekends.
Tauranga Hospital emergency department clinical lead Dr Derek Sage said staff were subject to a range of levels of abuse while working.
"At the bottom end of the scale there is the use of aggressive tone or language, which is basically intimidation and makes staff feel uncomfortable. Then there are actual threats, which are usually accompanied by aggressive posturing, and beyond that is following through on those threats and striking staff," he said. "The number of instances we experience can be likened to a pyramid in that the lower level ones are more common and those of physical violence thankfully rarer.
"There has been a noticeable improvement of late and it would be nice to think the message of respect toward staff is getting through to the community."
Service and food workers union national secretary John Ryall said its members, orderlies and hospital security were called regularly to help nurses and other staff being assaulted. Although it was part of their job, the issue of assaults on staff was a concern.
However, violence was being taken more seriously these days, Mr Ryall said.
"I think people have become more aware of the problem of violence in hospitals for one reason or another over the last few years. Now every major hospital has orderlies and security based in their emergency department to deal with violence."
Association of Salaried Medical Specialists chairman Ian Powell said members were aware of the likelihood of assaults in some parts of the hospital, such as the mental-health department and the emergency department, where alcohol, drugs and emotions were often involved: "It's not an acceptable part of the job to be assaulted but the risk there is known. It's reality."
In April 2012 the Bay of Plenty District Health Board proposed to cut security staff at Tauranga Hospital. In June, the board decided against cutting the hospital's security service from 10 full-time equivalent positions to nine after unions raised concerns.