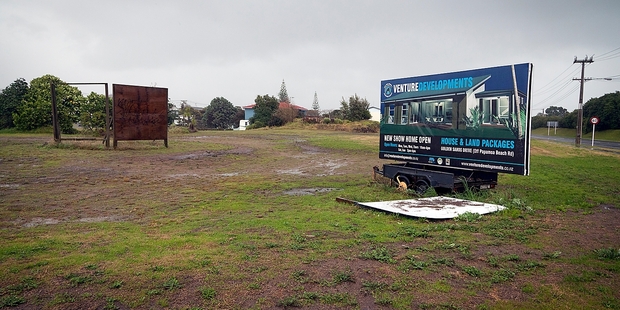 A medium-rise commercial and apartment development with the potential to transform Papamoa's traditional beachfront hub has been promoted to the Tauranga City Council.
Sunshine Paradise was proposed to be built on the 7350sq m section on the corner of Papamoa Beach Rd and Domain Rd, with the design team looking to imitate the relaxed cafe and shopping atmosphere of Mount Maunganui Main Beach's Twin Towers.
The four-level development was the biggest signal since the market collapsed six years ago that confidence was returning to Tauranga's apartment and townhouse sector.
It follows a 20-unit townhouse development in Miro St, Mount Maunganui, selling out in just seven weeks, harking back to the boom days when apartments were being sold off plans.
The details for Sunshine Paradise were outlined to councillors yesterday by developer's representative Bob Wooller and planning and architectural consultants David Needham and Rob Benge.
The developer was Graham Rodgers, who built The Anchorage apartment complex at the Mount.
Sunshine Paradise is the latest in a long list of development proposals that have come and gone for this "special piece" of bare land. Mr Rodgers still holds a consent to build a multi-storey motel complex on the residential-zoned site.
However Mr Benge argued that the full potential for the site would be achieved by a mixed retail, office and residential development, with the front two-thirds of the land proposed to be rezoned commercial. He said it was already starting to morph into commercial with a vet clinic.
He stressed that a mixed-use development including cafes and a surf shop would draw people from the beach and holiday park across the road and become an energetic hub for Papamoa, much like under the Twin Towers.
"The project ticks all of Tauranga's urban design boxes."
Mr Benge said Papamoa had got its own identity and was different to what it was 10 to 15 years ago, with the development becoming a sort of gateway for Papamoa.
"We want to do something that will complete the jigsaw there."
The first step was a private-plan change for the part of the site to be zoned commercial. "For this we need your support," he told the councillors.
Mr Needham said they had received a neutral feedback from their talks with council staff and were looking at more positivity in order to go forward and make investment decisions. A planning change could be quite expensive but would allow them more flexibility than going through a resource consent process.
Mayor Stuart Crosby recalled a previous attempt in the mid-1980s to rezone the land commercial for a service station.