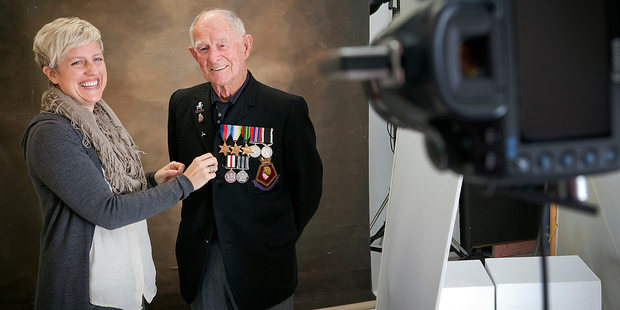 THE portraits of Bay of Plenty World War II veterans will soon be part of a nationwide portrait project to be gifted to the Returned Services' Association next year.
Veterans were photographed in Mount Maunganui on Saturday by members of the The New Zealand Institute of Professional Photography (NZIPP) who are volunteering their time for the project.
NZIPP Waikato/ Bay of Plenty chairwoman Tracy Stamatakos said it was an important project. "My grandfather was a World War II veteran and as a photographer I failed to see the importance of photographing him with his medals until we started this project," she said. "I really wish he could've been part of it."
She said she was doing the project for other families and New Zealand. She hoped people would bring their grandparents or parents along before it was too late.
Photographer Sarah Beaufoy said the project began on March 25 and would run through to the end of July in order to capture as many of the about 3000 remaining veterans as possible.
The photographs would be gifted by the NZIPP to the Royal New Zealand RSA next year as part of the World War I centenary ceremonies.
World War II veteran Ron Wallbank, 91, was an engine-room engineer in the Navy for six years from 1939 and was photographed on Saturday.
He said it was great to be part of the portrait project and to acknowledge and remember the past.
"I'm proud of my efforts," he said, "I think the memories should be kept alive.
The number of veterans were dwindling so it was good to be capturing them now, he said.
"I think it's wonderful, a great idea. It might encourage someone to join the Navy."
The vivid memories of World War II had never faded for Mr Wallbank and neither had the camaraderie, he said. He still attended every Anzac Day to remember friends who did not survive the war.
"I go to remember my mates who died. There were 22 in my training Navy class and 11 got captured in Singapore."
His ship was bombed by the Japanese and 200 men were killed.
It was something he would never forget, he said.
Each portrait taken would have a story, such as Mr Wallbank's, and the NZIPP hoped to publicly display the images around the country as part of a commemorative touring exhibition.
Royal New Zealand RSA chief executive David Moger said the project would result in a collection of national significance.
"Not only will the body of work make an immense contribution to New Zealand's national archives during the centenary commemorations of World War I, but the act of taking the photographs will show our veterans that they are remembered and that the sacrifices they made for the freedom of us all is still honoured," he said.
"This is a piece of work that I think the whole of New Zealand wants to share in."