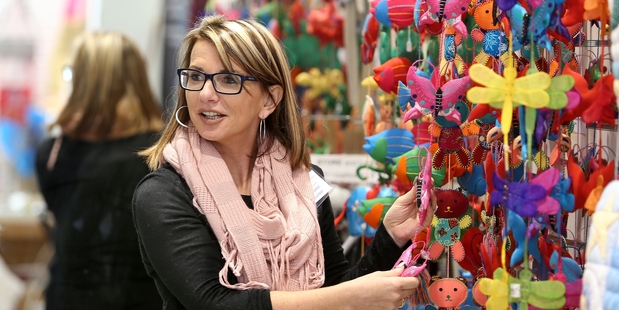 Bay of Plenty Times journalists are volunteering up to a day's labour for local charities then profiling these organisations in a feature story as part of the series The Bay of Plenty Times Gives Back. Today, Annemarie Quill writes about helping the Cambodia Charitable Trust run by Tauranga lawyer Denise Arnold.
It is a freezing morning in wealthy suburban Bethlehem. Shoppers are hugging soy lattes in the Coffee Club, or panic buying merinos from exclusive boutiques.
Sandwiched between a glamorous hair salon and a fancy bakery is a shop belonging to a trust run by Tauranga lawyer Denise Arnold, a business she runs in spare time from her practice, Lyon O'Neale Arnold.
Her parents, Brian and Fiona, work 40 hours a week on the business without pay, and the shop is staffed by volunteers.
What retail business might a lawyer be into? Designer clothes? Bespoke jewels? Unique handbags? Yes, all of these. But not like you may think.
I am at The Up Market, an emporium-style store selling everything from silk handmade gowns to colourful scarves and bags, to bright butterfly mobiles for babies.
It is a feast for the eyes. I spy sequined clutches, sparkling costume rings and pink pashminas that all scream: "Buy me".
Today, I am not here to shop. I am on the other side of the till. All proceeds from the store go directly to the Cambodia Charitable Trust, which Denise established in 2008.
The concept for the store was seeded after Denise's first trip to Cambodia in 2007, when the plight of Cambodian children propelled her into action.
"I heard about the sale of children in Cambodia and how vulnerable they were. I wanted to do something," she says.
The trust focuses on the children's educational needs. Funds are used to get them into school, provide resources, train teachers and help educate communities and lawyers that help the children.
"If we keep the children in school, they are safe, and if we educate them, they are less vulnerable to being trafficked or sold," says Denise.
On her trips to Cambodia, Denise realised the alluring products she had bought directly from local people had a market. The goods were desirable for their uniqueness and also because fair trade gave back directly to the communities who made the products.
"If we support them by buying their goods, they can keep giving people skills and show them how to support their families."
Imeet fellow volunteers Caryll and Robyn, and Denise's father, Brian, who shows me the ropes.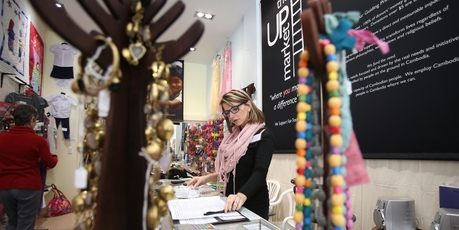 The sheer volume of stock is overwhelming but exciting. I have a to-do list, which includes unpacking new stock sent by the trust's patron, Theresa Gattung, and pricing it.
I am a slow worker as I keep trying on the velvet coats I find in the box, much to Caryll's and Robyn's amusement. We discover such delightful treasures that I suggest we redress the windows. Robyn's face lights up, "Oh normally we don't touch the windows, but I guess we could if you're here."
So feeling a little bit naughty, we decided on a purple colour scheme for both windows. We dart around the shop selecting goodies for our purple theme: cerise silk cushions, aubergine totes, and garnet rings, amethyst purses and slabs of homemade lavender soaps.
I stop to read the small cards by each item, which detail who made it. It is a stark reminder of the huge chasm between our world and theirs - the pink crocheted purse I have been coveting was made by Srey Oun, who is blind from acid burns, and crochets with a scarf covering her ruined face. She has a 3-year-old daughter to feed. There is no welfare system in Cambodia.
I find a shelf of the cutest children's toys - monkeys, bunny rabbits and butterflies. They are made by the Daughter Collective, a sewing room in Cambodia where prostitutes learn to sew so they have an alternative income to working on the streets.
A local shopper peruses ceramic trays. Her friend wants some to take back to the UK.
"They are so unique. We tried in Auckland to get them but couldn't."
She buys two. Her purchases have just paid for school uniforms and stationery for a family.
Another shopper is looking for a wooden puzzle as an engagement present for her son. It is intricately hand carved by a man with polio. Buying the puzzle helps him fund his medicine.
Robyn tells me that when they sell the goods at Bethlehem markets, people sometimes ask, "Why are you doing this for Cambodian children? Why not Tauranga children?"
She says that while there are needy children in New Zealand, there are few support agencies in Cambodia.
I am reminded of a quote by Eleanor Roosevelt, which Denise says inspires her: "It's better to light a candle than curse the darkness."
And light a candle she has.
The Cambodia Charitable Trust now supports eight schools and two teachers' colleges.
More than $325,000 was sent to Cambodia over last year, which was the biggest year. Most of the money came from donations.
All of the money is spoken for and has bought school uniforms, stationery, bags filled with the tools a new teacher needs, and the trust has partnered local education authorities to build new classrooms and improve facilities.
Denise travels regularly to Cambodia to consult the locals and visit the schools supported. She is often joined by her daughters, aged 19 and 21.
"The trust is a family affair," says Carol Sowden, the afternoon volunteer. "When Denise's daughters are at university, they take boxes of stuff to sell. And they come back with more orders."
Mrs Sowden, a former social worker, has been working for the trust for four years. She has visited Cambodia.
"The killing fields are still very real. People my age were part of it. Our guide told me how he had to watch his sister 'exterminated and boiled'. Most people have horrific stories. Children were being trafficked, even by their own fathers."
Mrs Sowden says what Denise is doing "is practical and it works. Education sets them free."
We sit back, dizzy on purples and plums. Very 2014, I tell Mrs Sowden. Which seems so frivolous in one way, yet our windows exemplify how Denise has been able to engage her own Tauranga community to help children in a land so far away.
Before I leave I order a bunny with an apron on, made by a former prostitute, with the label Daughter on it. And a friendship key ring, which later that evening I present to my daughter.
"Is that all you got me?"
"It is a very special friendship key ring, made by someone with a little girl like you, and buying it helped her buy her schoolbag," I reply.
My daughter attached it to her school bag. "I will be her friend."
A small lesson - for her and me - in global responsibility and the power of the dollar you choose to spend.
More than just the money they raise, the products are a voice for the people of Cambodia.
Next time you are in Bethlehem, stop by The Up Market.
You may just save a child's life.